The most important issue of why rural areas of NS are struggling to survive got barely a mention in this years provincial election. Equalization unfairness is an issue that has been brandied about for quite some time and no doubt a lot of people are tired of hearing about it. Yet at the same time there are a quite a number of people who are not aware of this injustice. But it's an issue that should be continuously brought up and fought for until these payments are fairly distributed to every municipality of Nova Scotia.

The Nova Scotians for Equalization Fairness in 2012/2013 gave a breakdown of 16 areas of Nova Scotia that have not received their fair share of payments from the provincial government. http://nsef.ca/ It ranges from a disparity of over 100 million to the CBRM to over 20 million for Pictou and over 3 million for Yarmouth. What we know is that this has lead to higher property taxes for all of these areas of Nova Scotia. If fairly distributed the tax savings would be considerable.

All NS political parties have been complicit in allowing this unfairness to continue as all three parties have had their kick at governing the province and have allowed this practice to carry on.

When John Morgan took this fight up with the province it was not dismissed because of the merits of the argument, but because the provincial supreme court determined that CBRM did not have standing. The merits of the transfer payment inequality has never been argued in an open court.

Why keep bringing this issue up? Well as my friends in Gabarus learned when fighting for a seawall for over 30 years and did not believe would happen until the trucks were actually coming into the village with the rocks for the new seawall – it's never wrong to keep fighting for what is right and fair no matter how long it takes. It's something we should be all asking our representatives and potential representatives when they knock on our doors and ask for our support.
Promises made and promises not kept, and no promise at all
There is basically no difference in our political parties and what they offer to Nova Scotians. And I've been around long enough to know that promises by politicians are not always kept. All parties are guilty of this. Recently the provincial NDP party introduced a motion on transfer payments. I even have the dead link for it here 
The Liberal party in 2010-2013 in their issue paper on Economy Resolutions for Nova Scotia ( https://www.liberal.ns.ca/wp-content/uploads/2012/10/Economy-Resolutions-2010-to-2013.pdf ) included this for Sydney Victoria and Equalization Payments: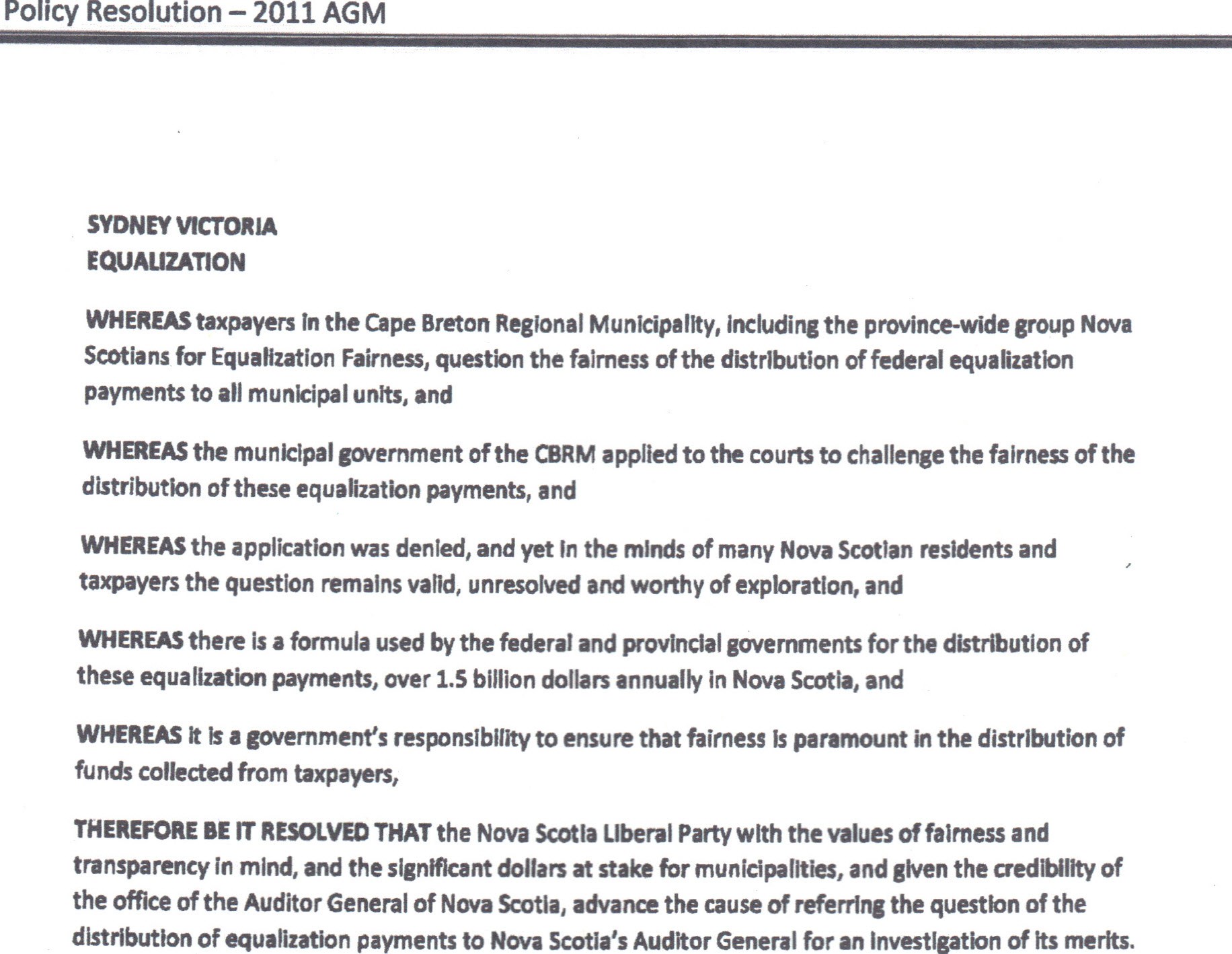 I emailed the Premier and Zach Churchill the Minister of Municipal Affairs on how this was proceeding after reading a letter to the Editor in the Cape Breton Post on the matter. This is the response I received:
June 22, 2016
Mr. Bill Fiander
VIA E-MAIL:  b.fiander@
Dear Mr. Fiander:
As Minister of Municipal Affairs, the Premier has asked that I respond to your email of May 6, 2016, regarding a Letter to the Editor published in the Cape Breton Post on May 5, 2016.
As you may be aware, there are two equalization programs at play in Nova Scotia:  the Federal equalization program through which the Federal government allocates funds to provinces, and the Provincial equalization grant through which the Province of Nova Scotia allocates funds to municipalities. These two programs, and the funding, are unrelated.
At this time, Government is confident that the funds received through the Federal equalization payment to Nova Scotia is being used to support Nova Scotians in an appropriate manner.
The Department of Municipal Affairs is currently working with municipalities to review the Provincial equalization grant, which allocates $30.5 million to municipalities annually.
Sincerely,
Original signed by:
Zach Churchill
Minister of Municipal Affairs
cc:  Honourable Stephen McNeil (051016002)
There was no mention of taking the issue of transfer payments to the auditor general.
I find no mention of the conservative party regarding this. But a lack of a promise or a broken promise ends up being the same thing in the end.