By Tera Camus
(A Sydney-based former journalist too bored for her own good)

Over three dozen people, many wearing green, repeatedly chanted "Plants Not Pills" today outside Courtroom One, where inside, the owner of a known Sydney-based marijuana dispensary was in custody facing multiple criminal charges.

Donald James Campbell, 38, of Grand Lake Road was busted Friday (Dec 1, 2017) after four raids were held about 4 pm by a joint-forces operation of Cape Breton Regional Police and RCMP officers on Campbell's stores operating at 181 Kings Road and at 795 Grand Lake Road as well as his warehouse and home on Grand Lake Road.

According to police, more than 25 pounds of marijuana was seized at Campbell's two Cape Breton Medical Cannibis unmarked outlets - worth a whopping $200,000 - plus the company's cash registers and its customer database. It also seized $20,000 in cash believed to be proceeds of alleged illegal sales. (See stash and cash below)

A total of 11 people were arrested at the time of the simultaneous raids and released from regional lockup hours later on Saturday morning. Many were alleged staff or volunteers. Two were charged besides Campbell but police say they plan to lay more charges as they sift through the evidence collected.

"It remains illegal to dispense cannabis through a home or storefront operation for medical or any other purposes," stated a press release issued Sunday from the regional police headquarters located next door and in view of Campbell's Grand Lake Road's shop.
Campbell was originally charged with only five breaches of prior court orders and two weapons offenses but on Monday police added two drug trafficking charges for cannabis as well as one charge for producing cannabis. His girlfriend and at least one staff member were also charged for drug trafficking plus other charges like breaches of court orders.

Many supporters as well as a few lawyers questioned the heavy handed tactics to shut down the operation when laws respecting marijuana use and distribution is expected to change in 2018. Most matters before the court today were being given court trial dates for 2020.

One lawyer on his way inside court on an unrelated matter couldn't believe police targeted Campbell's businesses which had been serving clients with legitimate prescriptions for marijuana since the summer.

"No, certainly I don't agree this is a wise use of police and court resources given the upcoming legislative changes," said well known Glace Bay Defence lawyer Doug MacKinlay.

"I heard that police also used pretty harsh force when they burst into these places," he continued, noting, if that's true, "it seems excessive and unnecessary."

Several alleged staff members and customers said they witnessed the aftermath of the police raids that included what appears to be coffee over all the new sweatshirts and t-shirts in stock as well as destroyed other products that are commonly found in corner stores and other smoke shops.

The sweatshirts worn by many supporters in court Monday had an life savor over a marijauna leaf with the words "East Coast Stoners" on front or wore the company's bright green logo.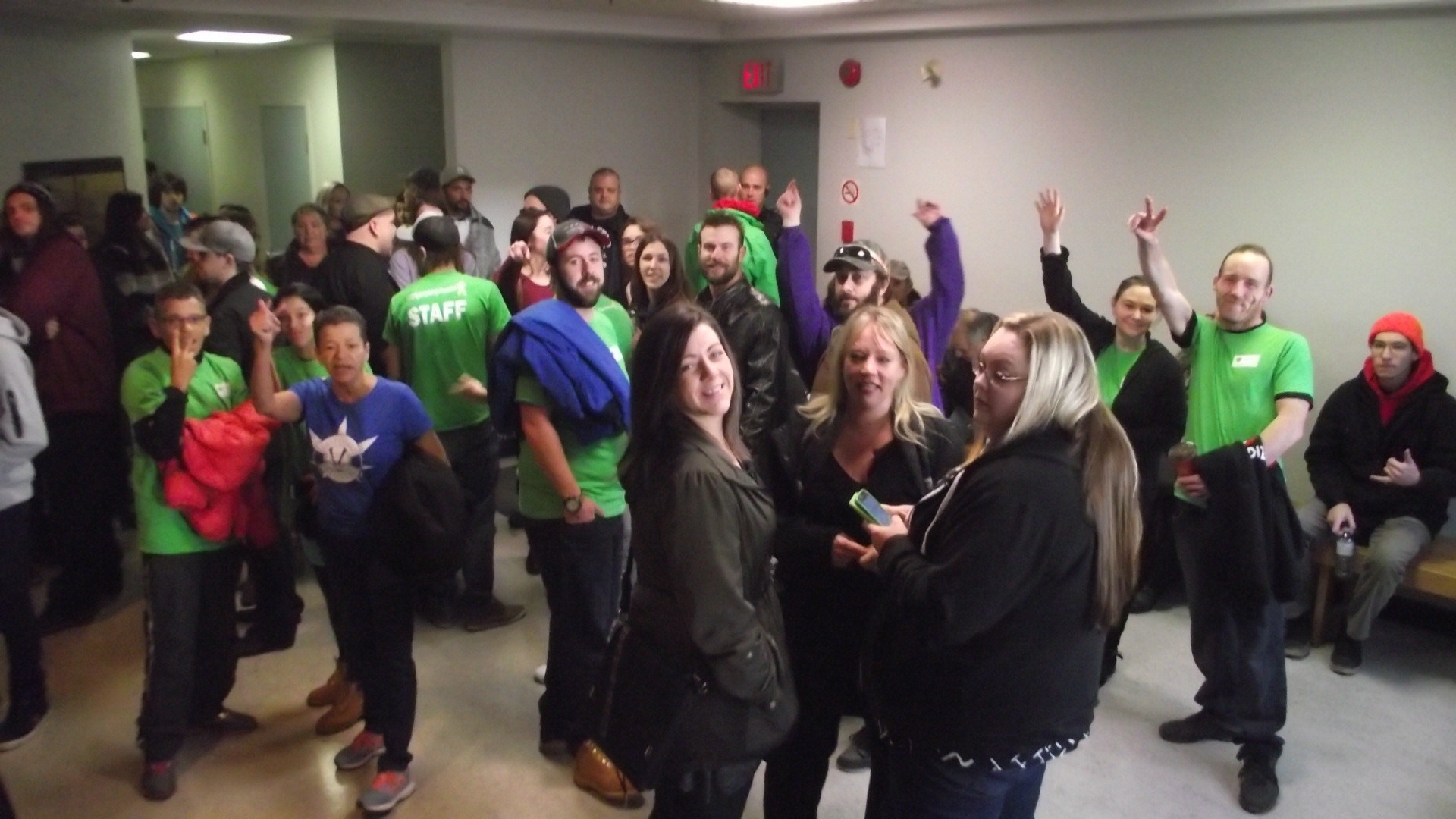 The closures of the two outlets in Sydney is believed to have severed local supply to hundreds of customers who are now being forced to deal with mail order companies in Canada or the USA or the underground market that often provides inferior product or product tainted with deadly chemicals such as Fentanyl.

Amanda Forrest of Whitney Pier told this former reporter that after diagnosed with fibromyalgia, nothing but marijuana helped ease her pain.

"Pills made me sick," she said while wearing a company t-shirt. "Hopefully they'll be back up and running soon because I know I won't take another pill for pain. Plants not pills."

Cape Breton Medical Cannibis (sic) is a registered active Joint Stocks NS Limited company headed by president/official agent Donald Campbell of 1088 Grand Lake Road while Morgan Ferguson of 238 Crestdale Drive is listed as the company's vice-president and Mr. Campbell's father Donald Campbell Sr., of 2337 Point Edward Highway serves as the company's chief executive officer. According to Joint Stocks, the company was registered in August 29, 2017 and up until Friday, was running six days a week at 181 Kings Road. Its Grand Lake Road operation opened only a few weeks ago.

Campbell's mother tearfully condemned police for destroying her son's business. She later had to be wheeled out of the court after her son's court appearance.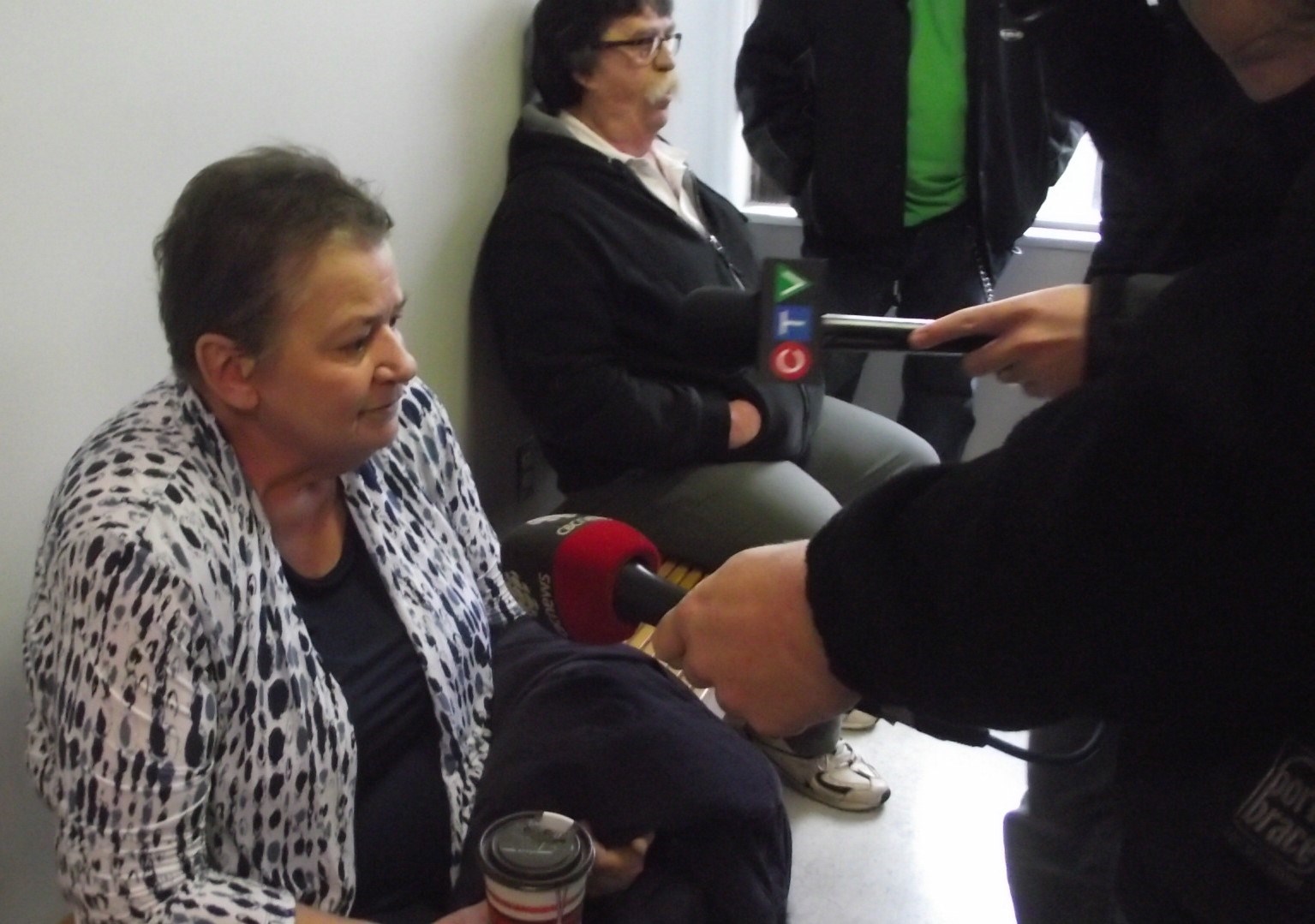 "I'm very proud of what my son is doing for the whole community here...he's out to help people," Cindy Dawn Campbell told this former reporter alongside reporters from CTV and CBC television, the only other journalists attending the protest.

"I'm really, really upset," she continued as supporters stood silently. "There are so many people in need and what my son is doing is good for all the people....He did crime when he was young and now he's out to help the people and give back to the community, and this is what 
they do to him...They wrecked his houses. They wrecked his businesses. They wrecked everything."

Customer Jeff Tobin said he has suffered chronic back pain for almost 10 years and Cape Breton Medical Cannibis outlets help him live a normal life.

"Nothing helped and the last ditch effort was for me to go to CB medical," he said. "After I had some I was able to go up the stairs, or pick up my kids ...it's helped me and my whole family because I can help care for my kids...This is totally unfair."

Mr. Campbell's case was officially called up Monday afternoon where in a packed courtroom of supporters witnessed officials announce a delay in proceedings until this Friday. It's expected Mr. Campbell will file for released from custody. Lawyers in the case are from out of town given conflicts with the usual federal drug Crown Prosecutor who handles local cases.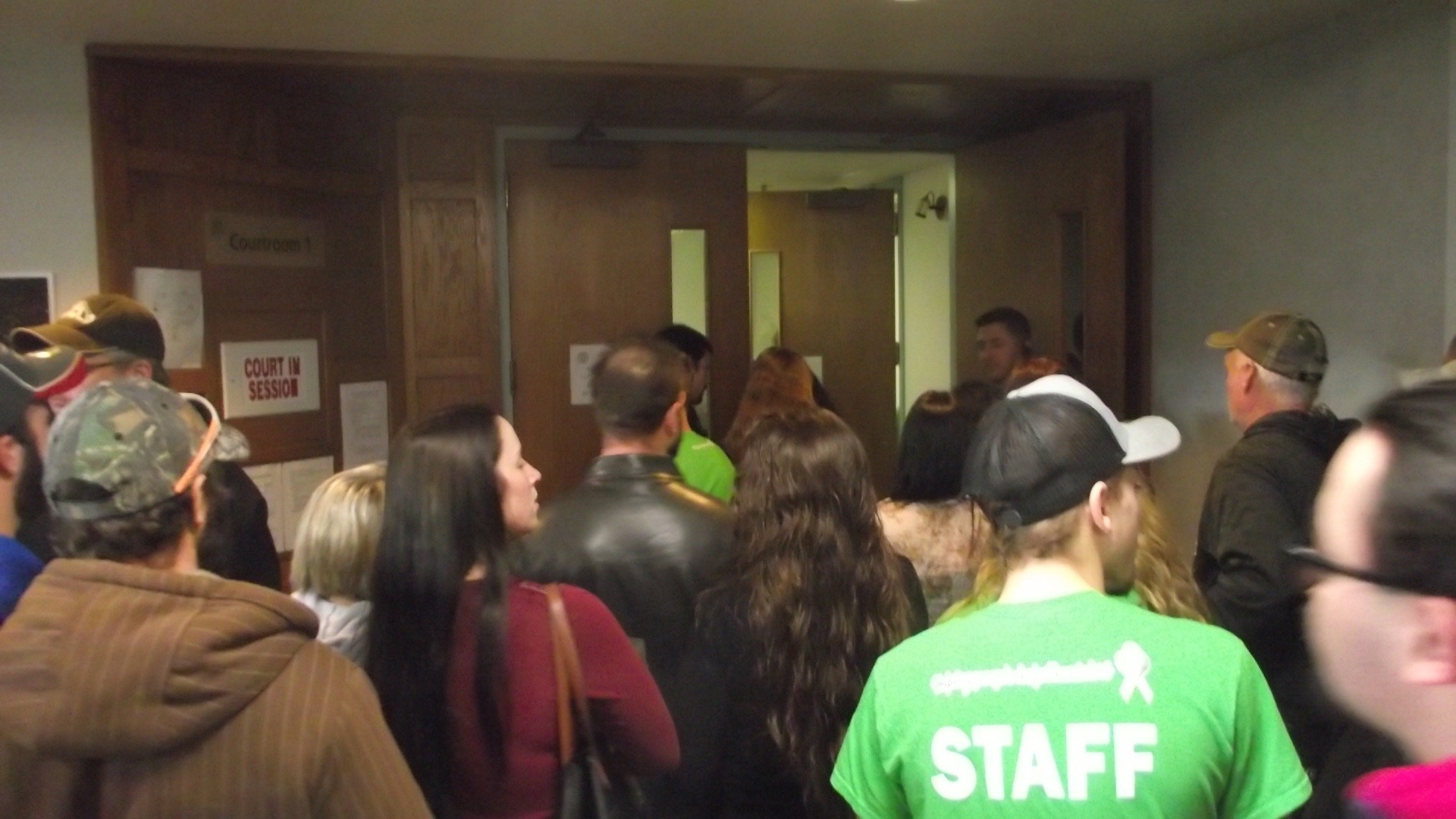 During his appearance, the court erupted in shouts and demands for justice as well as a very loud chanting of "Plant Not Pills" directly during proceedings before Judge Peter Ross.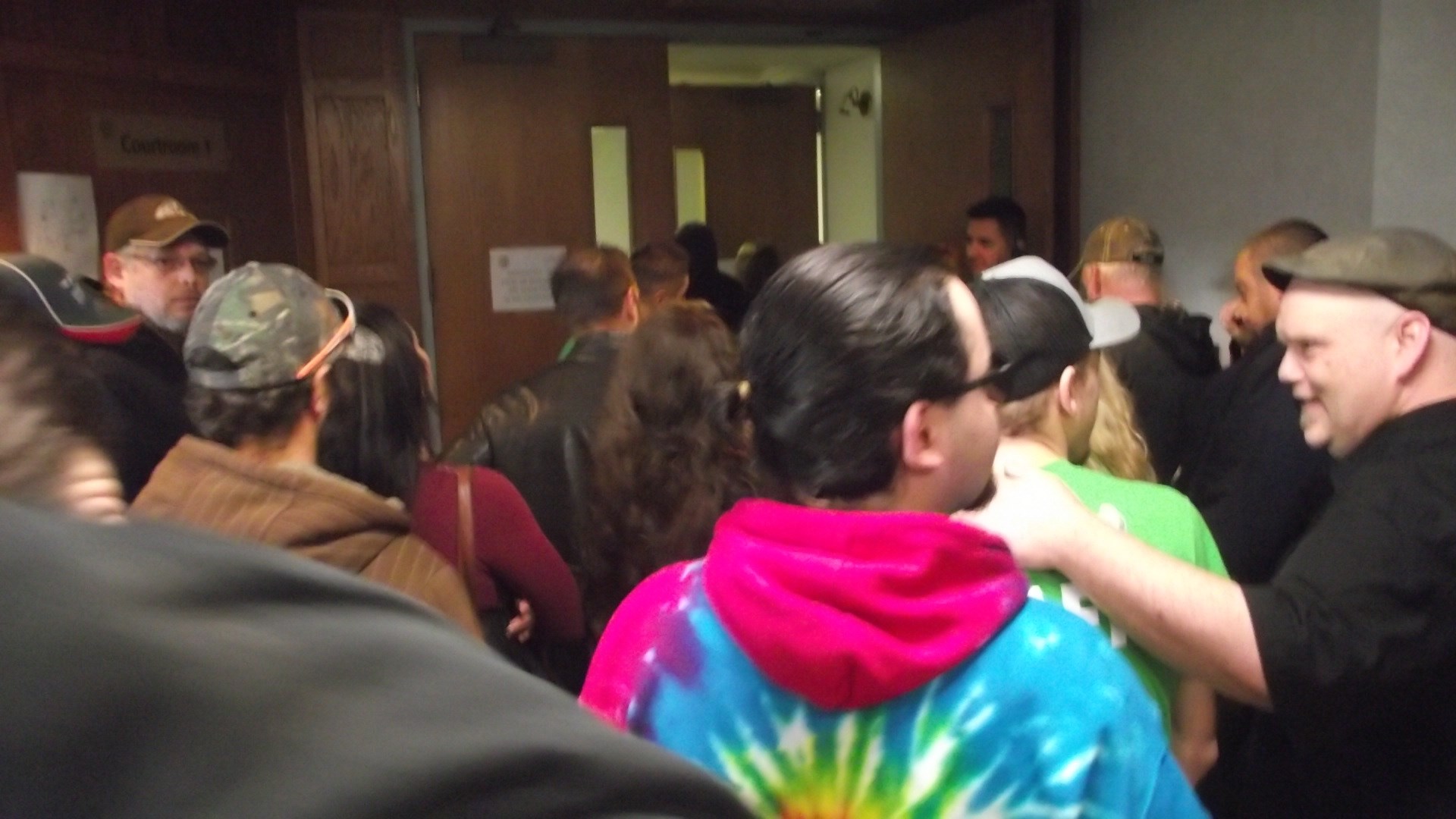 One onlooker afterwards said none of the situation is right and thought Mr. Campbell was just pushing his luck too far when he opened the Grand Lake Road operation about a football field's distance from police headquarters. 

"What can you expect," said one observer there among supporters. "He was thumbing his nose right at police....this is probably pay back for all the previous run-ins with him."

- Photos include the crowd of protesters, Mr. Campbell's mother and a police photo of the stash and cash they seized under warrant Friday.