Web Development Company For Sale -
www.
GoSmartMedia.com


Successful & Established Web Development Company in Nova Scotia, Canada that has many monthly Web Design, Digital Marketing, SEO, and Web Hosting Clients!
PLUS.. many other HI RANKING feeder sites for lead generation such as..

BONUS LEAD GEN WEBSITES ALSO PART OF THIS SALE..
SEOserviceshalifax.com

HalifaxSEOservices.com (just domain, no site)

HalifaxSEOservice.com (just domain, no site)

Halifaxwebsolutions.com

Webdesigncapebreton.com

Capebretonwebdesign.com (just domain, no site)

Albertaseoservices.com
The truth is, the owner is retiring after 22+ years in the business and would rather sell this successful Web Development / Digital Marketing Company locally rather than to some foreigner owner outside Atlantic Canada.
Lets keep jobs right here locally rather than someone else coming in to own and operate them from away - Maritimers working with and for Maritimers, lets keep it that way!

We have had many opportunities in the past 12 months to sell this abroad UK, Florida, India, UAE, etc., but we are sticking to our guns to hand it over locally.. as most of the clients are located locally in Canada (Halifax, Cape Breton, PEI, Moncton, Montreal, Ontario, Alberta)!

Here's your chance to grab an already established company that is still ramping up!
Create your own job or add it to your growing portfolio of clients!
ASKING PRICE: PM for details, financials, LOI, P&L, and questions or check out the Flippa Link Below for Price Points--> [email protected] or 902-304-1302
----------------------------------------------------------------------------------------
In-Depth Traffic Analysis..
Site Established: January 1999

Content Unique: Yes

Design Unique: Yes

Referring Domains: 355

Backlinks: 4.62K

Total Keywords: 50

Monthly Page Views: 1,623

Avg. Session Duration: 00:01:18

Bounce Rate:24.16%

Organic Search: 36%

Direct: 33%

Referral: 26%

Social: 5.4%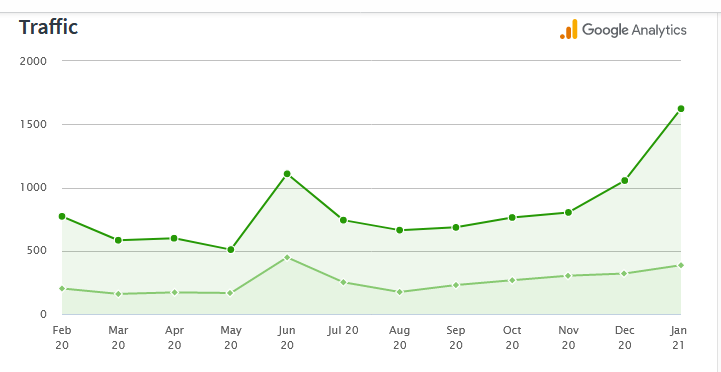 Seller's Notes
Updates for 2020-2021..

1. Signed on 2 new SEO clients in the past 2 months (more leads coming in daily)
2. A few new WEB DESIGN projects in the works (more leads coming in daily)
3. Created a Working Document for Go Smart Media to Transition to the New Owner which includes all active SEO Tools, Social Media Accounts, MailChimp account logins etc
4. Created document for all Web Hosting Servers (DNS, IPs, logins, yearly billing info)
5. Registered / Renewed - Go Smart Media at JOINT STOCKS NOVA SCOTIA CANADA - Business Registration (Canada wide)!
6. Now an official Digital Marketing Services Provider for Digital Nova Scotia!

(P&L, revenues, expenses documents available upon request - Send PM to [email protected])
----------------------------------------------------------------------------------------
Business Description
Go Smart Media is a professional Web Development, SEO Services, and Digital Marketing company based in Canada that is growing and generates leads from a variety of related support sub sites (that I own) that do very well in the SERPs, often bringing in many solid leads daily.
How does your business make money?
Most of my sites are currently listed either #1 or very high on Page #1 of Google in a variety of GEO targeted areas across Canada for services such as web development, web design, SEO Services, and digital marketing.
So as a result, the business makes money through SEO Services (monthly auto subscriptions),web design projects for new and existing client base, and other digital marketing services (PPC, Facebook Ads, Facebook Management, Website Management/Maintenance, Web Hosting, Email Marketing, Social Marketing)
Why should someone buy this business?
This is a great development opportunity for an individual or company to add to their existing portfolio of clients, as I am semi-retiring and wanting to sell while it is currently successful and still ramping up. I am also getting into other spaces like crypto and real estate with a partner and really need someone with serious interest to take this over.
Business Strengths
Key Words Ranking

Brand and Community Loyalty

Customer Service

Length of Operation in Niche

Lots of Repeat Customers

Solid Google Footprint for various websites included with this listing
Opportunities for a new owner
Start Selling into New Markets

Introduce Further Revenue Streams

Improve or Outsource Operations

Maintain existing client list

Many new web design projects

New markets and advertising will make this business a million dollar company within a year
Key day-to-day operations
Customer Support / Services through email and phone

Vetting new leads

Website Maintenance / Management

Website Design

Website Hosting

Content marketing / Article Writing for SEO clients

Content Sharing

Backlinks Creation on top related and social channels

Running Google AdWords Campaigns for certain clients

Running Facebook Ads / Contests for certain clients
Marketing
Facebook Advertising

Google AdWords

SEO Services / Backlinks Creation / Social Sharing
Assets
Client List / Contracts (written or verbal) with customers and suppliers

Customer websites / databases / contact info

Domains

Web Hosting accounts

Relevant email accounts for all websites included in this listing

Social media accounts (facebook, twitter, pinterest, gmail, youtube, linkedin, tumblr, reddit, many more..)

Mailchimp accounts (email marketing list, roughly 2000 subscribers)

Toll-free numbers

Website files, source code and content
Social Media Accounts

Facebook: 18K followers
Twitter: 230 followers
Instagram: 4,071 followers
Pinterest: 403 followers
LinkedIn: 285 followers
Many others..
Post sale support
Included! Owner agrees to help run and transition the company to the new owner for at least 6 months.
Put a new team in place or run it yourself.
A great Digital Marketing company to add to your growing portfolio... or if you are a new student out of IT Web Design College looking for an already made business for your career :) Just a thought!