PHOTO CREDIT Corey Katz
The Cape Breton Centre For Craft & Design has opened an incubator for artisans in Port Hawkesbury. Customs House has fully-equipped studio space and subsidized rent, and provides business training and marketing support so that resident artists can develop skills to launch a successful career.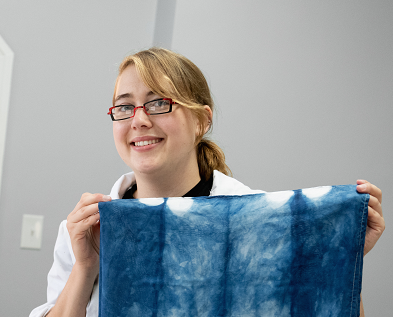 Josie Robinson
"It's rare to have a residency that also helps you grow and promote your business," said textile artist Josie Robinson, who moved to Cape Breton from British Columbia. "It's also great to interact with other artists at the same stage in their careers, so we can all learn and share together."
Customs House currently has four resident artists, and is recruiting more. Space is rented annually, and entrepreneurial goals must be met in order to renew. Artists sell their products on location and at local craft markets.
Customs House is open to the public daily, so visitors can see the crafts being produced and also engage with the artists.  
For more information, visit CapeBretonCraft.com or watch the VIDEO below