[Left to right: MacKenzee Ryan, Hannah Brown, Alison Keough, and Toni Bianchini. Photo credit: Valentina Primossi]
---
By: Dillon White
---
Heading into a Remembrance Day match-up with the Saint Mary's Huskies, the Cape Breton University Capers' title defence wasn't going well.
The CBU women's basketball team started the season with three consecutive losses and were coming off a five-point loss to the Huskies the previous night. But Capers' head coach Fabian McKenzie decided to go local with his starting lineup.
"We didn't even realize it until we huddled," said second-year guard Toni Bianchini.
The starting lineup featured fifth-year Marion Bridge center Alison Keough, fourth-year forward Hannah Brown of North Sydney, second-year guard Toni Bianchini of Groves Point and rookie MacKenzee Ryan of Glace Bay.
While the four Cape Bretoners on the roster shared the floor together before that point, the game against Saint Mary's was the first time they all started the same game.
"I didn't see it [happening] right away," McKenzie said.  "I knew we had the potential to [start them together] because of the way our team is made up this year. But it came to be and it's been great ever since . We're rolling in the right direction."
The Capers bounced back and defeated Saint Mary's 55-48 for their first win of the season and the lineup has proved successful since. In games where all four Cape Bretoners start together, the Capers are 12-1.
The four locals lead the Capers in scoring, and the frontcourt pairing of Keough and Brown are in the conference's top five in both points per game and rebounds per game.
Reigning AUS MVP Alison Keough was the first of the Cape Bretoners to join the Capers roster five years ago. She says she didn't realize the significance of the starting lineup until they played together for a few games.
"It's huge to have four local players making an impact in AUS," Keough said.
Building A Winning Program From Within
The Capers' homegrown success is a result of years of development and savvy recruiting around the island. When Fabian McKenzie first took over the women's basketball program at Cape Breton University, his optimism was met with skepticism.
"I was told many years ago we could never build a winning program here, never make the playoffs, never win," he said. "But we don't believe that in Cape Breton."
About a decade later, the Capers were one of the most prestigious programs in the country. McKenzie led CBU to AUS championships in 2004 and 2006, along with three straight championship runs from 2009 to 2011. During that time, Alison Keough and Hannah Brown were paying attention to the Capers' success and the Capers were paying attention to theirs.
---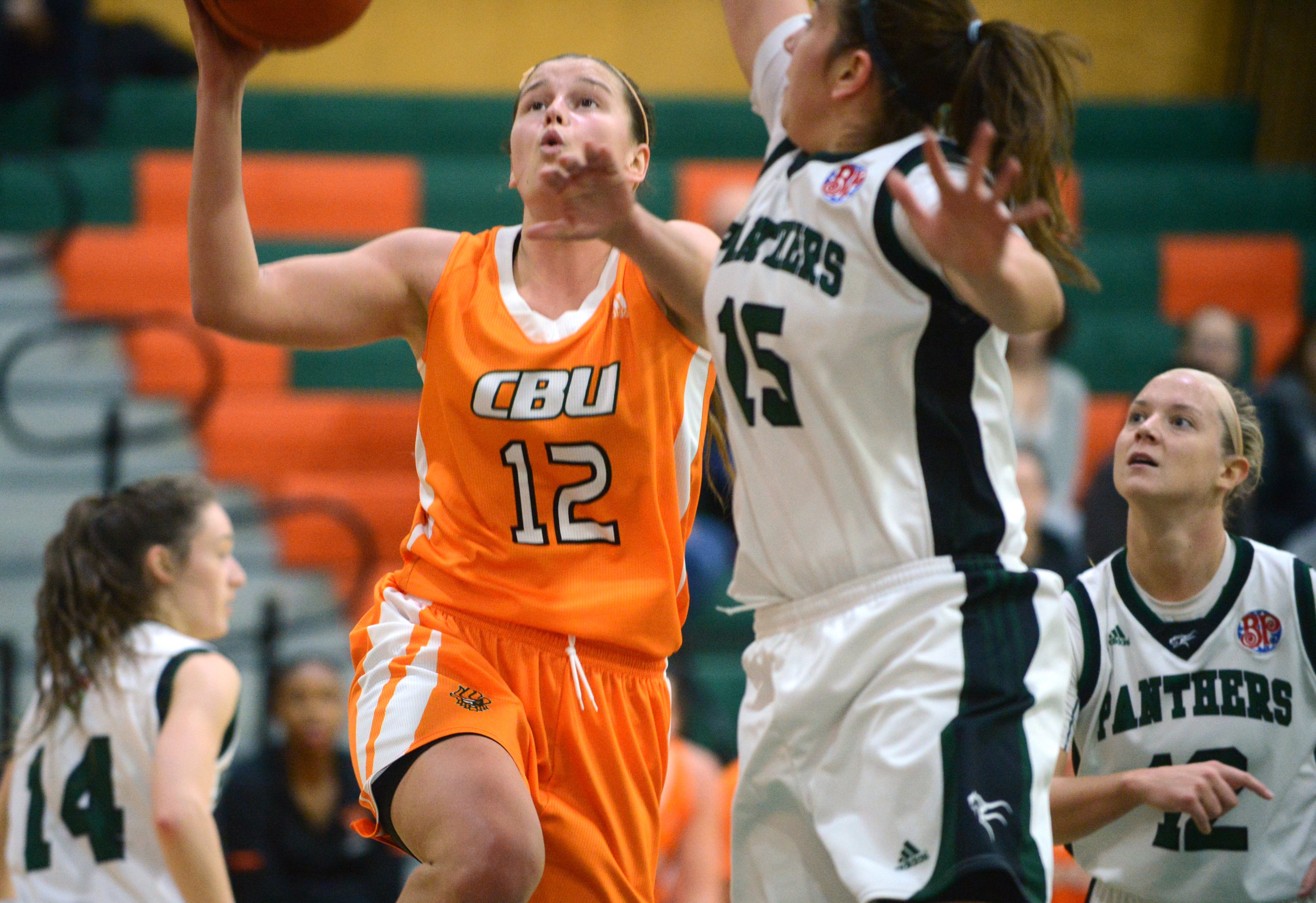 AUS MVP Alison Keough goes up for a layup surrounded by UPEI defenders at Sullivan Fieldhouse [Photo credit: Vaughan Merchant]
---
Keough and Brown were battling in a highly competitive Cape Breton High School Basketball League. Keough led Riverview High School to impressive provincial finishes during her three years with the team, while Brown did the same for Memorial High School. Throughout their high school careers, McKenzie was sowing the seeds for the Capers' future success.
"Fabe was definitely a big presence recruiting from an early age. He was always at all my games in high school and would always message me afterwards," Keough said. "He really showed that he and [assistant coach] Doug [Connors] cared. I remember Doug would give me tape for my ankle because we didn't have it at Riverview. Gestures like that made you realize they really cared about you as a person and wanted to see your career go well."
Keough was a highly-sought-after recruit nationwide and McKenzie didn't know he could convince her to stay in Cape Breton.
"I wasn't sure [we'd be able to recruit] Alison because she was such a high-level player and everybody had been talking about chasing her," McKenzie said.  "It was a discussion that I had with her dad that I knew she was probably going to end up here."
Despite her continued success, basketball wasn't always the intended path for Keough.  
"I started playing in grade four but I didn't really want to play basketball," Keough said. "I wanted to play soccer so I didn't really choose basketball until grade ten. That's when I realized there was some interest and I got to go to some Canada Basketball camps and thought 'Oh, I think I like this more'."
Keough credits Jeff Lalonde, her high school coach at Riverview, with developing her game as she became a highly-touted recruit. Once she committed to CBU, Keough had an immediate impact in the conference.
In the 2013/2014  season, Keough won both the CIS and AUS Rookie of the Year, leading Cape Breton to a third-place finish in the conference after the team missed the playoffs the previous year. The Capers lost in the quarter-final at the AUS Championships in Halifax, but Fabian McKenzie was busy recruiting the next Cape Bretoner to make an impact on the roster.
---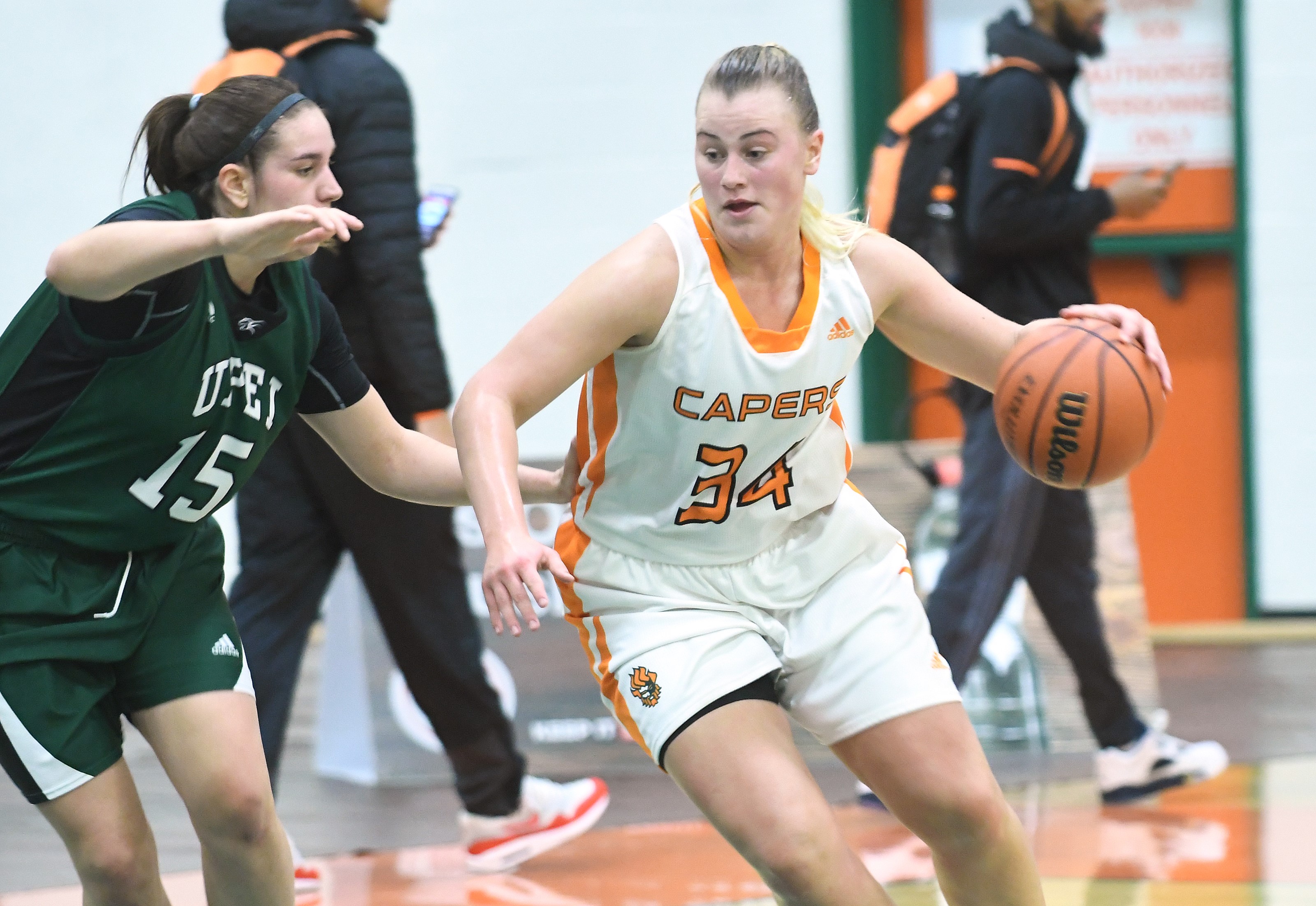 Hannah Brown drives past UPEI's Carolina Del Santo in a matchup with the Panthers in November [Photo credit: Vaughan Merchant]
---
"We started recruiting Hannah Brown when she walked into basketball camp about 6 feet tall in grade 6," McKenzie said. "We started working on her then."
Brown attributes McKenzie with much of her development and giving her the confidence to pursue a higher level of basketball.
"I always thought of [playing at the next level] as my ultimate goal," Brown said.  "Obviously when you're younger and watching the Capers you're like 'Oh my god I want to be them someday'. It's always kind of stuck in the back of my mind."
While Brown was always motivated to push her game forward, she didn't know it was a realistic possibility until Fabe McKenzie made a joke at a Capers basketball camp.
"When I was younger and in basketball camp, Fabe came up to me and said 'If you keep working, someday I'll have a full scholarship here for you. You keep working,'" Brown said. "From that moment on, I realized if he thinks I can do it, I must be able to."
Other schools pursued Brown as well, but her decision to play at CBU wasn't difficult.
"The idea of leaving seemed exciting at the start," Brown said. "But I kept on comparing schools to CBU and every time I'd consider one it wouldn't measure up to some aspect that CBU has. I finally I asked myself, why am I comparing schools to CBU? Why don't I just go there?"
When Brown first arrived at CBU, she didn't have the same immediate impact as Keough. In Brown's rookie year with the Capers, she averaged just 3 points per game and 2 rebounds per game, serving as a backup to Keough. The Capers finished fifth in the conference before losing to Saint Mary's by two points in the AUS semi-final.  Keough placed in the top five for both scoring and rebounding in the AUS and was named an AUS First Team All-Star for the first time.
"It's been a tale of two cities with Alison and Hannah," McKenzie said. "Alison came in and hit the ground running. CIS Rookie of the year, All-Star, MVP, the whole nine. Hannah has taken a little more time to develop."
The following season saw the Capers reach the AUS final, while Keough and Brown continued to improve. But things didn't fully come together for the Capers until the 2016/2017 season.
Keough was named AUS MVP and a 1st Team All-Canadian after averaging 19.3 points per game and 9.9 rebounds per game. While still serving as a backup to Keough and starting just four games, Brown continued to improve her skills.
"To Hannah's credit she's worked incredibly hard on her physical side of things, she's worked incredibly hard on the basketball side of things and she's worked really hard to be better from a mental perspective too," McKenzie said.
The Capers finished the regular season third in the conference and defeated Acadia 79-61 to win the program's sixth AUS championship.  Brown scored 15 points off the bench in the championship game to help lead the Capers to victory.
While Keough and Brown were navigating the Capers to an AUS Championship over three years together, another pair of Cape Bretoners established a friendly rivalry in the high school league.
---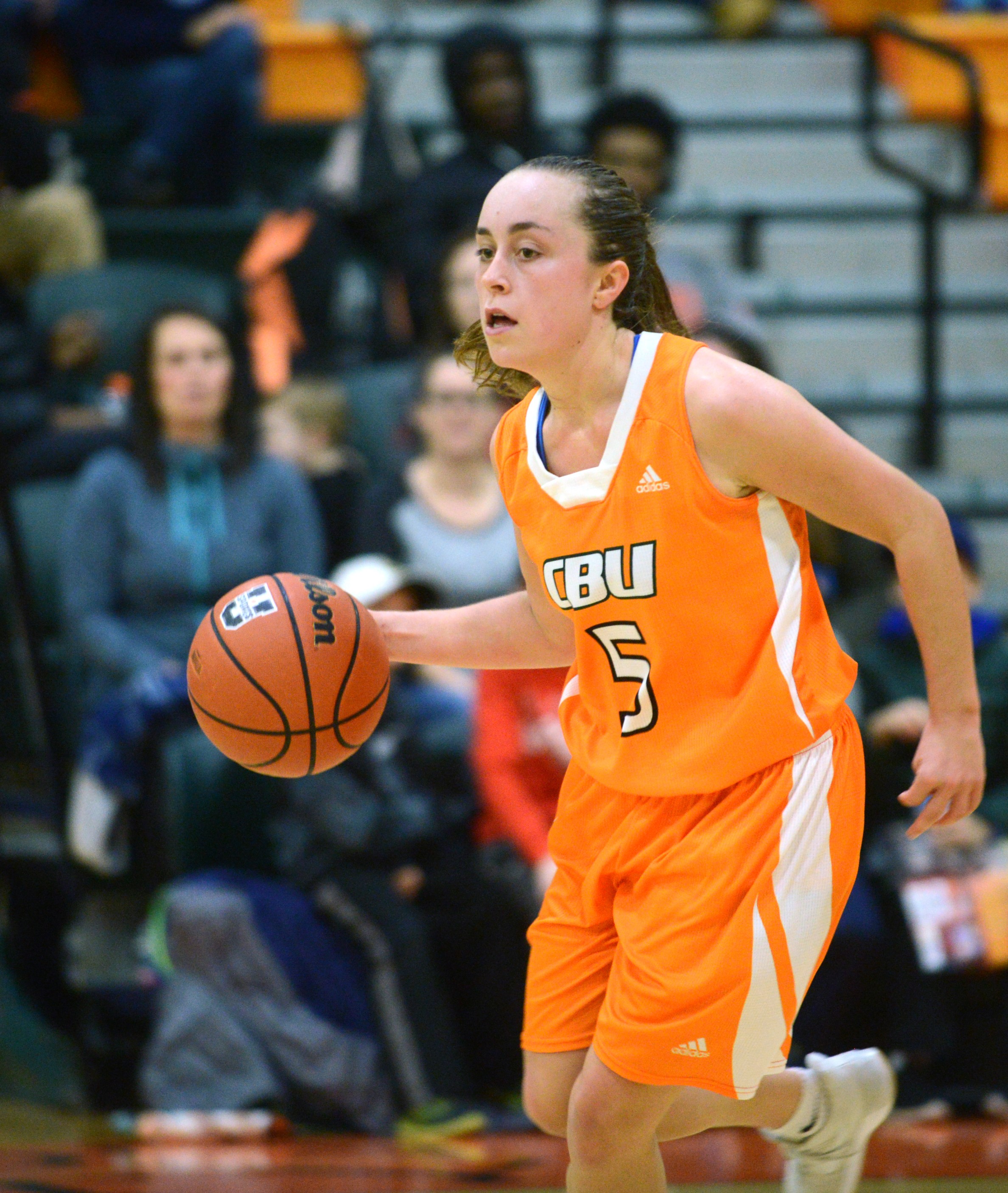 Second-year guard Toni Bianchini in a game at Sullivan Fieldhouse earlier this season [Photo credit: Vaughan Merchant]
---
MacKenzee Ryan and Toni Bianchini formed a formidable duo when they shared the court with Basketball Cape Breton, but featured in a fierce match-up when Glace Bay High and Memorial would go head-to-head.
Ryan and Bianchini both led their high school teams to successful finishes in NSSAF provincials before their Grade 12 seasons were cut short due to the Nova Scotia Teachers Union labour dispute.
Bianchini began playing basketball in Grade 4 but didn't realize she could take it to the next level until high school. Fabian McKenzie saw her play in provincials and was impressed with her performance.
"Fabe started talking to me in Grade 10 so I thought maybe I can go to the next level," Bianchini said. "I heard from other places but in the back of my mind I wanted to come here."
Bianchini joined Keough and Brown for the AUS Championship run in 2016/17, averaging 11 minutes per game in 18 games played over the season. 
The recruiting process for MacKenzee Ryan was a bit different. The daughter of Capers' athletic director and former player John Ryan, MacKenzee was around the program from a very young age.
"We still had to recruit [MacKenzee] but she grew up here," Coach McKenzie said. "Her dad's the athletic director and he's a legendary player, but she's making her own legend."
Ryan was able to pick up a basketball for the first time when she was two years old and worked hard to improve since then.
"I always wanted to keep developing my skills," she said. "I was always the one that wanted to learn to do this new dribble move and use it on the court. But I think when I really decided I wanted to play basketball was junior high. I really liked to practice and compete."
For Ryan, being around the program from a young age complicated the decision to play at CBU.
"My [recruiting process] was a bit different because of my father and Fabe," Ryan said. "I honestly think it made the decision even harder but it was also a huge advantage being around Fabe and watching the players that have come through CBU and seeing the progress the program's made."
Learning To Play Together
In her first season with the Capers, Ryan didn't envision playing a major role.
"I never thought in a million years that I'd be starting my first year at all," she said.  "I'm completely shocked even at the opportunities I'm getting now. This is more than I ever thought would happen."
---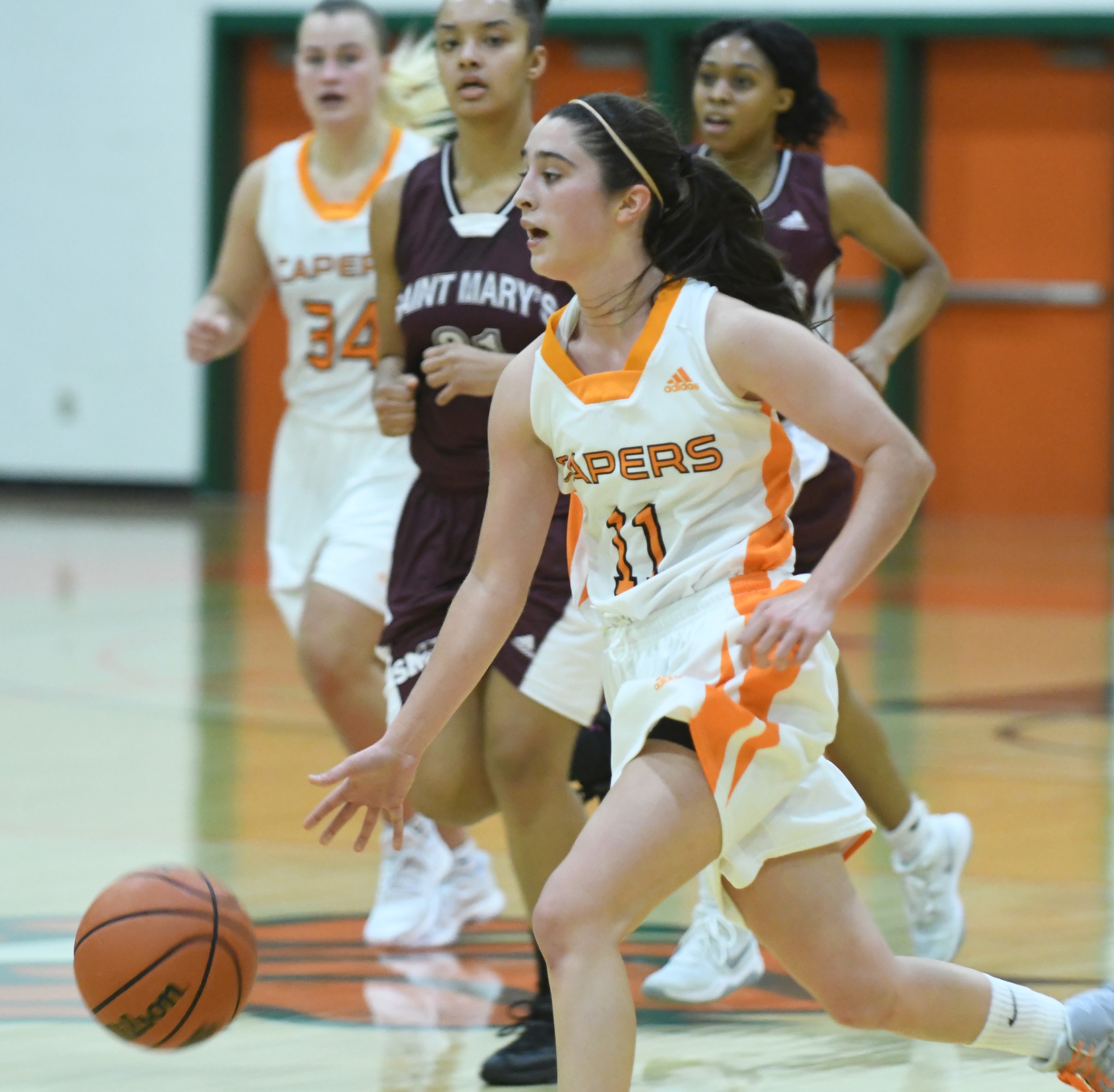 MacKenzee Ryan in a November game against Saint Mary's earlier in the season [Photo credit: Vaughan Merchant]
---
After the slow start to the current season, the Cape Bretoners on the team have been clicking. Keough became the all-time leading scorer for the Capers and pulled in more career rebounds than anyone else in AUS history. Bianchini and Ryan have provided much-needed playmaking and shooting in larger roles, finishing in the conference's Top 15 in 3-point percentage. Meanwhile, Hannah Brown went from backing up Alison Keough for three seasons to forging the scariest frontcourt duo in the league.
"Hannah's worked really hard to make things click," McKenzie said.  "The two of them playing together really is a tough match-up to stop. They feed well off each other. Hannah is having a tremendous year–an all-star year– and Alison's in the discussion again for MVP. It's a great thing to have–I wouldn't want to try and stop it, that's for sure."
Alison Keough says partnering with Brown in the post has been a great option for the team this season.
"It was an adjustment for both of us to learn how to play with each other on the floor," Keough said. "She's having a great season and now that we're able to read off each other, play the high-low game and know where we want the ball, it's an excellent option."
Meanwhile, Bianchini and Ryan are enjoying the chance to play with each other again after so much success teaming up with Basketball Cape Breton.
"We always had to guard each other growing up and it was always a rivalry in high school but I really like playing with MacKenzee," Bianchini said. "It's super fun. She gets things going for us and we work well off each other."
Despite the success the locals have found this season, Fabian McKenzie isn't sentimental about his starting lineups. He says the Cape Breton lineup wouldn't be a possibility unless it worked well for the team.
"I think [the lineup works well] because they're all talented no matter where they're from. They share the ball, they're unselfish, and they work hard at the game but there's also some familiarity there," McKenzie said.  
A Statement For Local Basketball 
The locals on the Capers roster say their current success is an important statement for basketball on the island.
"I think it just speaks to what we can do here in Cape Breton," Toni Bianchini said. "I know we're a small place but a whole starting lineup–that's big for the university and to show what we can develop here as individuals."
"It shows that Cape Breton basketball doesn't have to take a backseat to anyone across the country," McKenzie said. "Alison Keough's name is known straight across this whole country. She's from Marion Bridge and it's small community but it can be done from here."
Keough said it would be special to win an AUS championship in her final season with such a homegrown team. She says the success of the Cape Bretoners is important for girls who play in the community.
"We all did it right here and we're all in the league making an impact," Keough said. "It's showing other local kids that you can get the development and exposure you need here to make an impact at the next level."
But Hannah Brown says the importance of the team extends beyond the local starting lineup.
"Regardless of being a local team, we've created a close environment here no matter where anybody is from," Brown said. "We've got Valentina [Primossi] from Italy and [Timea Peter] from Romania. It's cool that Fabe has brought everybody together and we've created this family."
The Development of Women's Basketball In Cape Breton
The success of women's basketball in Cape Breton can be attributed to the emergence of Basketball Cape Breton and also the success of the Capers program over the years, McKenzie says.
For Hannah Brown and Alison Keough, there was no better place to develop as basketball players.
"Honestly, I feel like I had a better experience [playing in Cape Breton] than if I was anywhere else," Brown said. "Having such great coaches along the way that have helped mould me into the player that I am has been a great experience."
"People think that you can't do it here in Cape Breton," Keough said. "We have the resources here and there's good enough coaching here to develop your game. So I don't think that people need to go to prep schools to get the exposure and the development that you need."
The Program's Future
This past weekend, the Capers clinched second place in the conference and a first-round bye for the upcoming AUS Championship in Halifax. The team can expect one more season from Hannah Brown and several more for Ryan and Bianchini but Alison Keough will play her final game as a Caper in March.
"I'm going to stay [at CBU] and finish my degree and hopefully they'll let me stick around with the team," Keough said. "Maybe practice or sit on the bench and learn from Fabe and Doug."
In addition to his role with the Capers, McKenzie also serves as head coach for Canada's Development Women's National Team. He says the foundation is in place for developing women's basketball in Cape Breton going forward.
"We have to get young ladies interested and excited to play basketball," McKenzie said. "If you don't have athletes playing you're not going to have Cape Breton athletes."
He says that developing good coaches in the area is just as important as developing players.
"There are some great coaches working hard here in this area," McKenzie said. "We have to keep developing coaches and not turn them off. And it's all about development–it can't be about running plays and doing all the fancy things–it's got to be about making players better fundamentally."
While McKenzie will be losing Keough and Brown over the next two years, he hopes to continue to find homegrown talent for the roster.
"I hope there's another Alison Keough or Hannah Brown somewhere out there," McKenzie said.  "I want it to continue. We're going to keep working with all the coaches and the players in the area and try to develop it and have CBU as the first option when they decide on university."