Mayor Cecil Clarke wants the people of the CBRM to believe he can serve two different political roles at once without a conflict of interest... but it's already impacting his work as Mayor.

At today's public council session, several community groups appeared. They were there to appeal for financial support from the Municipality. Many councillors were very impressed with the outstanding presentation made by Wesley Colford of the Highland Arts Theatre, and other community stakeholders. Though taking no salary for himself, Colford has managed to pay out about $350,000 for a year's payroll, employing people in the arts. His talents and tireless efforts have been making the downtown area of Sydney a place people suddenly have a reason to visit and enjoy. At the same time, he's creating much-needed spinoff activity in the downtown that has real economic value to other businesses located there.
We need people like Wesley Colford. We need to listen to people like Wesley Colford. Except... Houston, we have a problem:

For most of Mr. Colford's presentation, Mayor Cecil Clarke was not present.

He arrived about 25-minutes into it.


If you thought he might have had to step away for a conference call with Chinese investors for the proposed container port, you may be a little disappointed now.

Mayor Clarke left a public session of council to go support his campaign for PC leadership doing a phone-in interview with the Sheldon MacLeod Show (News 95.7 in Halifax).

While the CBRM council was in session hearing the pleas for funding from important community organizations, Mayor Clarke stepped away to promote himself for the job he really wants.
This is, of course, predictable. The first day back on the job after his weekend announcement, and he's letting his campaign take priority over the needs of the CBRM. You'll hear lots of suggestions that the Municipal Government Act doesn't require him to step down. 

Should we discuss the now apparently infallible Municipal Government Act being used as an excuse?

If you show up on a day when the CBRM Council is talking about the charter that Cecil Clarke promised in his mayoral campaigns, he'd be the first to tell you about its deficiencies. That's what the charter is about... addressing the deficiencies in the MGA.
Remember: the MGA is deficient when he's the Mayor of the CBRM.
But the MGA is the immutable law of the land when it comes to him keeping his CBRM mayoral paycheque while on moonlighting campaign for the job he really wants in Halifax.

There's a difference between what someone can get away with and what is ethical and responsible behaviour.
The mayor is hedging his bets by staying on the at CBRM. It hints at two likely scenarios. He's not confident in his ability to actually win the PC leadership. And he wants to keep getting paid by the CBRM while on his campaign.


The mayor's logic is highly suspect when he tries to justify doing so. Let's do a comparison of some viewpoints on how he can use his vacation time:
Mayor Cecil Clarke
"The fact that I put in so much time as the only full-time member of Council if I went by normal accounting I would have in excess well in excess of 20 weeks' of vacation." (Cape Breton Spectator)

Tom Urbaniak, Political Science Expert, CBU
"There's nothing in the MGA about vacation time. And generally elected officials are treated a little bit differently than career public servants. You're not accumulating days in the same way."

CBRM Human Resources Policy
CBRM policies don't allow banking up unused vacation time (see here). If the mayor suggests that policy doesn't apply to him, then he may need to be reminded that the mayor and council remuneration policy doesn't include vacation - as Urbaniac tells us above.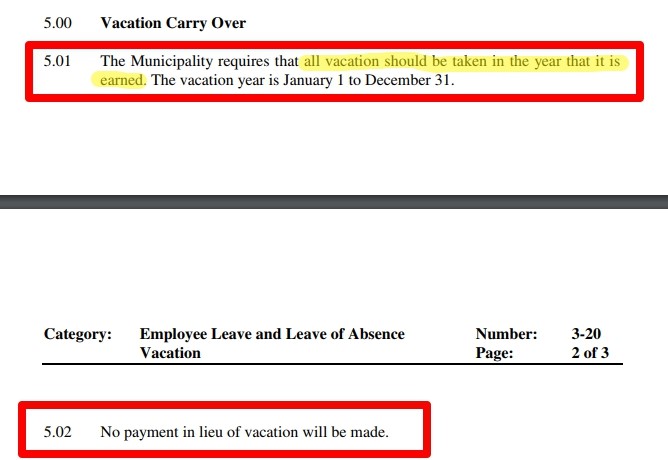 So we have a mayor that thinks he can use banked up vacation that both CBRM policy and a political expert tells him he doesn't have - even if it was ethical for a mayor to be an absentee for such a long period while moonlighting for a job in Halifax.
In a somewhat boastful manner, the Mayor will tout his work ethic of working "double" or "triple" the time. I've heard also from his supporters how he works around the clock.

The mayor may believe that's a helpful explanation for being able to pursue conflicting political roles at the same time. However, there's a big flaw in that logic...

If the mayor has really been working that hard, it's because the unfinished projects that are active in the CBRM require that kind of commitment.
Side note: He could probably lighten the burden a great deal if he didn't insist on excluding council from knowing what it is he's actually doing and letting them be involved in the job we elected them to do.
So the mayor wants you to believe that despite the unfinished projects taking up all his time, he has all kinds of banked vacation (that he doesn't actually have) to spare.
He thinks he can be an absentee mayor and that will be acceptable to the citizens of the CBRM... the same ones who grow fewer by about 1,000 people every year because of our ongoing decline.
If there was no conflict of interest, the mayor doesn't have any time to spare. His focus needs to be here.

But there's certainly a conflict of interest. Perhaps it's time to give Mayor Clarke an idea how to resolve one courtesy of one of his most trusted allies on Council, Mr. Jim MacLeod of District 12. As long as Cecil Clarke's true focus is on a bigger political career move, every moment he spends as CBRM mayor is conflicted. But it sure does pay well and has some first-class business travel perks.
NOTE: The views expressed above are my own and do not represent lokol (goCapeBreton.com). Read more