History
What do we take away from the past? There are nostalgic memories that bring us warmth and comfort. There are regrets and dramatic, sometimes tragic events that haunt us. Good, bad and indifferent, the past continues to shape the people we are today.
History is open to interpretation. There is my side and your side. As a subject history has been something that is imposed on us, as unwavering a subject in school when I went as mathematics. I remember going to the local museum with my class to watch someone churn butter, being the only thing that stuck with me about where we came from. This was just plain boring and put me off of history for several years. We have always been burdened with older generations imposing their values and narrow interpretation on younger generations. What is relevant and speaks to the values of people today? Our interpretation changes.
How do we encourage self-discovery? How do we adapt history to allow people to look to it for answers to what we can learn about ourselves and the future? Sometimes a story will take time to resonate with someone as they progress through life and look for meaning.
But we have to be careful. When we covet elements of history we are always telling only part of the story and closing the door on other perspectives. Perspective varies with values, politics, gender, lifestyle, race, religion, education, financial well-being. These elements have shaped what society deems to focus on as important and who we focus on, regardless of imbalance in opportunity. Who's version of history is the right version? What are the important elements and who is to judge moving forward? We should appreciate history like we appreciate each other, and recognize that glory comes from how we choose to feel right now about what once was, the keepsakes we cling to and the monuments we choose to erect.
Hippie Jim of Capstick
                                                                                                                                                                                                              Photos courtesy of Fred Cook        
I first heard this story through Fred Cook, who is a wealth of knowledge about Cape Breton places, stories and culture. On the surface, there wasn't initially much to the story, but I was drawn to it through circumstances that have occurred in my life and my perspective. Since I first posted the story last week I have had the pleasure of being filled in on other elements, with contributions from Theresa Burton MacKinnon (in one of the pictures above), Kenny Mac Dougall, Veronica Chamberlain, Arlene Fougere and many others. It is clear that the people and the story have touched so many in Cape Breton. I'll keep updating the story so long as there is more information out there to be shared.
The story takes place in the area of Capstick, a tiny community near Meat Cove, a remote village at the tip of northern Cape Breton. It is both rustic and beautiful; the kind of place one can picture driving to if they were committed to reaching the edge of the world. On a clear day Newfoundland looms at the top of Meat Cove Mountain in the otherwise unimpeded expanse of the Atlantic Ocean.
James Bruce Kucharuk, or known as Hippie Jim by the locals, was an American draft dodger that moved with his wife D'Arcy Sheen to Capstick in the early 1970s. Both were creative free spirits in their twenties, Jim being an artist (painter / carver) and D'Arcy being an fledgling actor. With the help of a sometimes reluctant big Belgian horse named King Jim built a cabin that evolved into what the locals called "The Castle", an imposing structure made of local timber and stone, with one of the interior wall made of old bottles. The couple later had a daughter, Tonya. They were a likeable couple in the community. D'Arcy would return to the U.S. with Tonya during the winter while Jim endured the harsh Cape Breton winters in isolation.
Jim was a creative dreamer, living in a magical world that was part of his own fantasy. It goes without saying that creative people are often misunderstood, and the ups and downs can be too much to cope with. Society pushes a normality that stifles and often strikes out at hopes and dreams, and stark reality can hit us no matter how far we try to escape it, even at the edge of the world.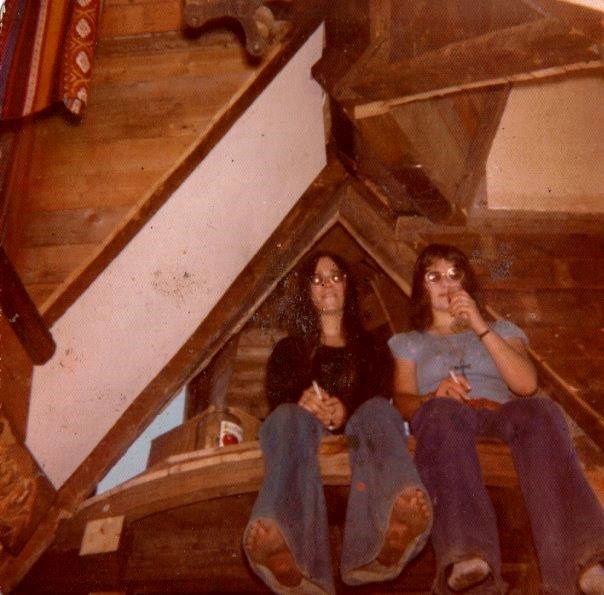 Theresa and Collete inside The Castle. Photo courtesy of Theresa Burton MacKinnon
 Perhaps D'Arcy left him because the ups and downs were too much to deal with. Perhaps it had something to do with her well-to-do family and their concern over their child. Whatever the case Jim was then confined to living by himself in remote Cape Breton. The castle must have felt like a dungeon. The ocean a constant reminder of the expanse between him and the ones he loved. The harsh winters would have just added to the bitterness and sadness. There seems to be two schools of thought of what happened next. Jim decided to conduct a long-term fast, either for religious reasons or as a plea to get D'Arcy to return to him. He had told some people that he had dreams of riding his horse King from Cape Breton to Mexico when the fast was over. People in the community knew of his suffering, and there were concerted efforts to get him to eat. Despite this, after 58 days in Jim, a shriveled up shell of what he used to be, was gone at the age of 27 in 1974. His funeral was in Sydney Mines his body buried in George's River.
Today the castle no longer stands. Many of Jim's paintings - his life's work, burned in a fire sometime after his passing.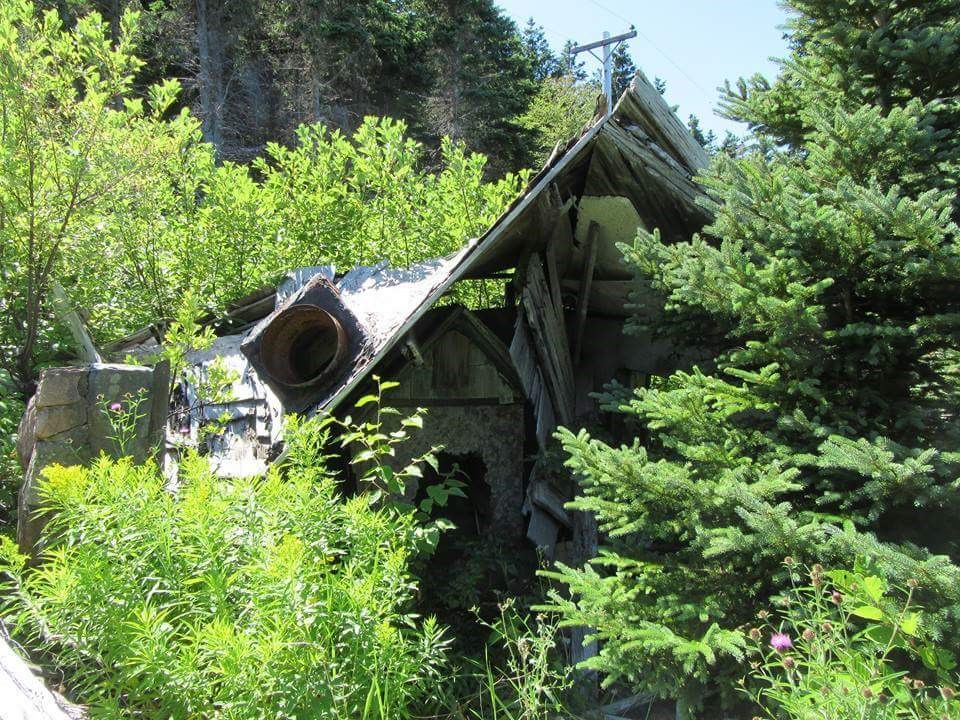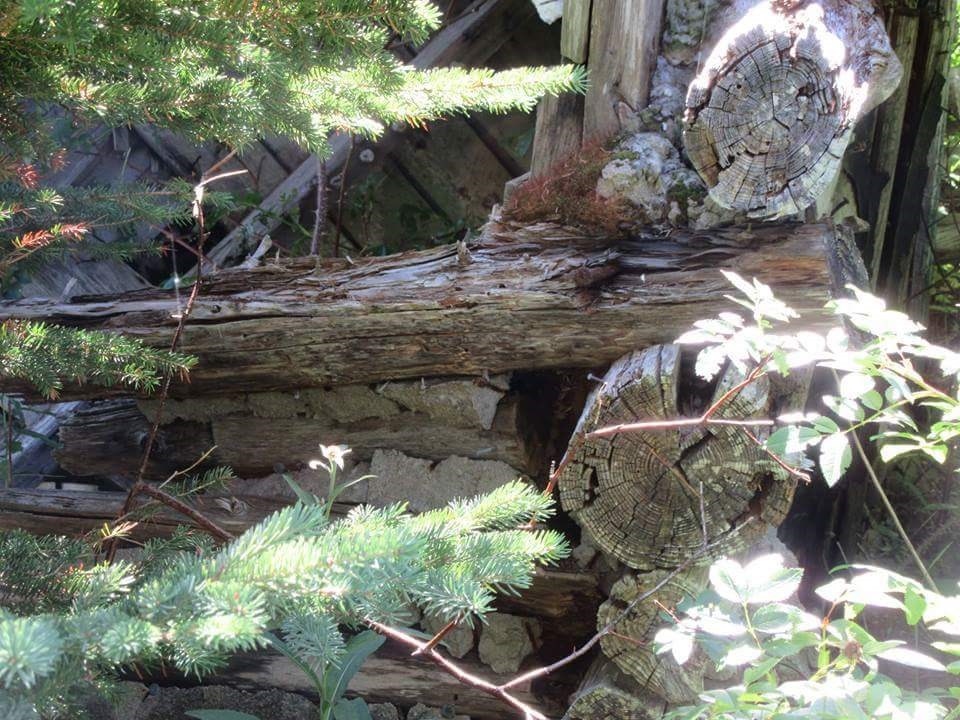 Remnants of the Castle - photos courtesy Arlene Fougere
Conclusions
I've drawn many conclusions here, being guilty of romanticizing and sensationalizing the story to relate to aspects of my life. This is human nature, filling gaps in fractal accounts to create legends, but I can't help myseIf. Don't take my word as Gospel. I'm not an historian. I'm just someone fascinated and continuously excited about with what I hear and see, and what people feel is important to pass along. We will never have all the answers, but we risk losing the story if we don't present it in a way that we can relate to it. I love history, but perhaps not the way you want me to.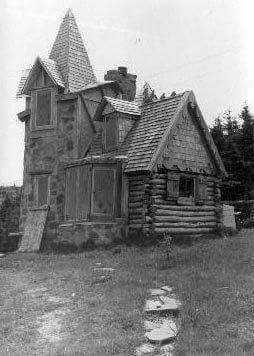 "The Castle" photo courtesy Arlene Fougere. 
Chris Bellemore is a blogger from Ontario that moved to Cape Breton Island and is logging his experiences in this strange and wonderful place.