Duke Mondy's stellar first season in the NBL Canada with the Cape Breton Highlanders professional basketball team caught the attention of the NBA Mavericks' development team, the Texas Legends.

The Legends signed Mondy to a contract and he is headed to Dallas to join the team to play in the NBA G League.
With the Highlanders, Mondy averaged 19 points, 4 rebounds, and 5 assists a game, and is a strong defender. His consistent play made him one of the top players in the NBLC this season.

Playing with the Texas Legends provides Mondy the opportunity to be closely monitored by NBA scouts and the potential to be called up to the NBA's Dallas Mavericks. The Mavericks are owned by celebrity entrepreneur and Shark Tank investor Mark Cuban.

Former Highlander Anthony Walker has been playing with the Texas Legends since the start of the season. Walker is a young center known for his impressive dunking and shot blocking.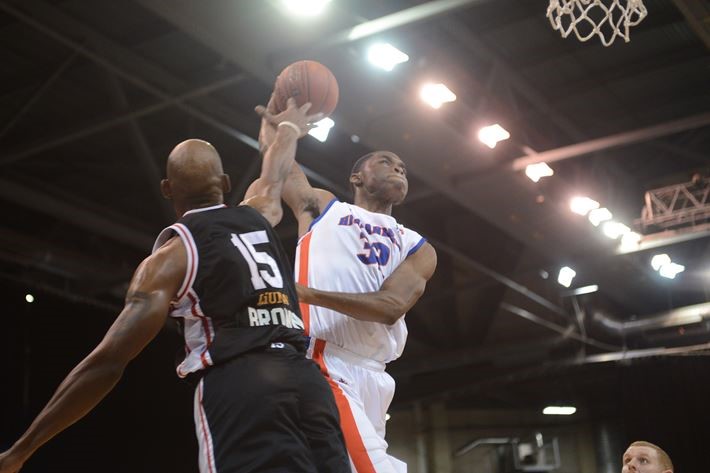 Anthony Walker flys through the air as a member of the Highlanders last season.

Highlanders President and GM, Tyrone Levingston, said, "Losing top players to other leagues happens frequently in the NBLC and it's always bitter-sweet. We're happy for Duke to have such an opportunity to grow as a player, but it's a tough adjustment for our team. Nonetheless, I'm confident that we have a cohesive team enhanced with our recent newcomers to round out the roster and finish the season strong."
Mondy's contract was bought out, which allows the Highlanders to make a move to replace him, even though the team had no player moves remaining this season.

The NBA Gatorade ("G") League is the NBA's official development league, formerly named the NBA D League. The League prepares players, coaches, officials, trainers, and front-office staff for the NBA, while acting as the league's research and development laboratory. The G League features 26 teams — all with one-to-one affiliations with NBA franchises.
The Toronto Raptors G League affiliate is called the Raptors 905 and they play in Mississauga, ON.  The team was originally in the NBL Canada and then transitioned to the G League in 2015.