The following information is provided as a public service based on personal research. Consider consulting a real-estate agent when buying or selling a house/property.
This information may really suck for property owners but your Councillor and your Mayor should have been the ones (not me) to tell you about it before they decided to take our Active transportation Trail away from us and replace it with a disgusting (IMHO) ATV Trail, in your backyard. This would be the transparent and accountable thing to do. I sometimes wonder why they wouldn't tell homeowners about this....just kidding, no I don't wonder about that :-)
What I have uncovered in my personal research may be considered bad news for home owners (selling) in district 9 & 10 of CBRM but may be considered good news for buyers. The discount to buyers is an expected result of a decision of CBRM Council (Pre-2020 election) to create an ATV trail through established dense residential communities (who does this in modern civilized society?). My limited research shows that property values potentially decrease up to 30% in Canada (twice that of the USA). There seems to be both public policy precedence and legal precedence for this assessment so don't shoot the messenger here, as they say, I am just trying to let people know because, they don't know about these potential negative effects of the CBRM ATV Trail.
What This Means To Property Owners
If you have property within a block or two of the CBRM ATV Trail (see partial trail map image below), you may have been "disadvantaged" (polite way of saying it) by CBRM Council. The number of people willing to buy property with an ATV Trail in the backyard is likely much less than the number of people willing to buy property with a life enhancing Active Transportation trail in the backyard. Sorry, but I wouldn't buy your property with an ATV Trail in the backyard. The noise, the dust, the pollution and strangers in your backyard on off-road vehicles that the police can not control...no thanks!
So if you feel your property was worth $100,000 before the CBRM ATV Trail then you may have to settle for up to $30,000 less (upper end).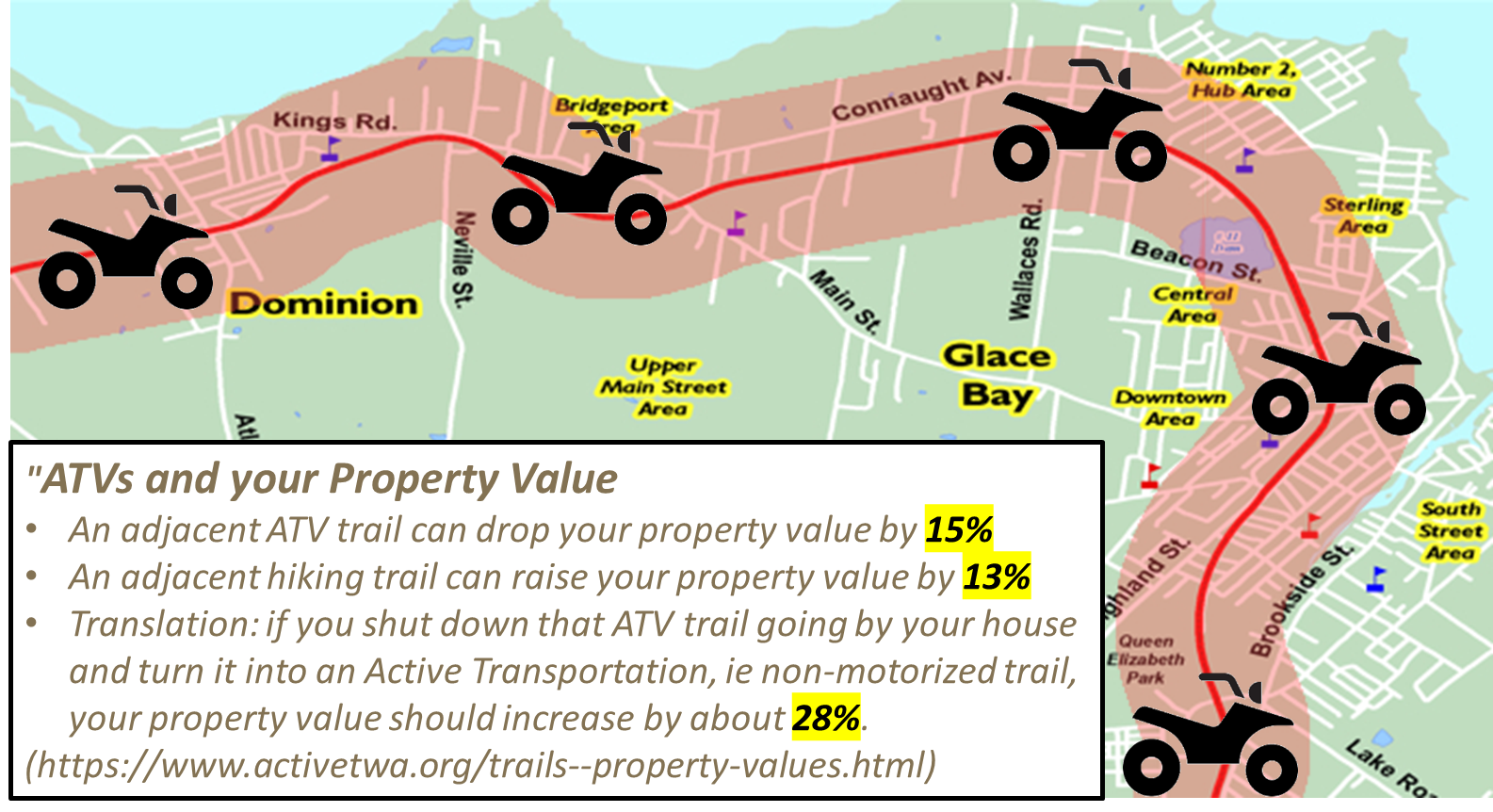 What you can do (as a first step) is demand that your property assessment reflect this grim reality. But you only have until February 13th this year to do this. At least if you stay in your home, you can pay a little less tax. But really doesn't help you if you want to sell your home or hand something of value down to your children. There seems to be precedence to have your assessment adjusted so get it in and call your Councillor to make sure they get behind you on this.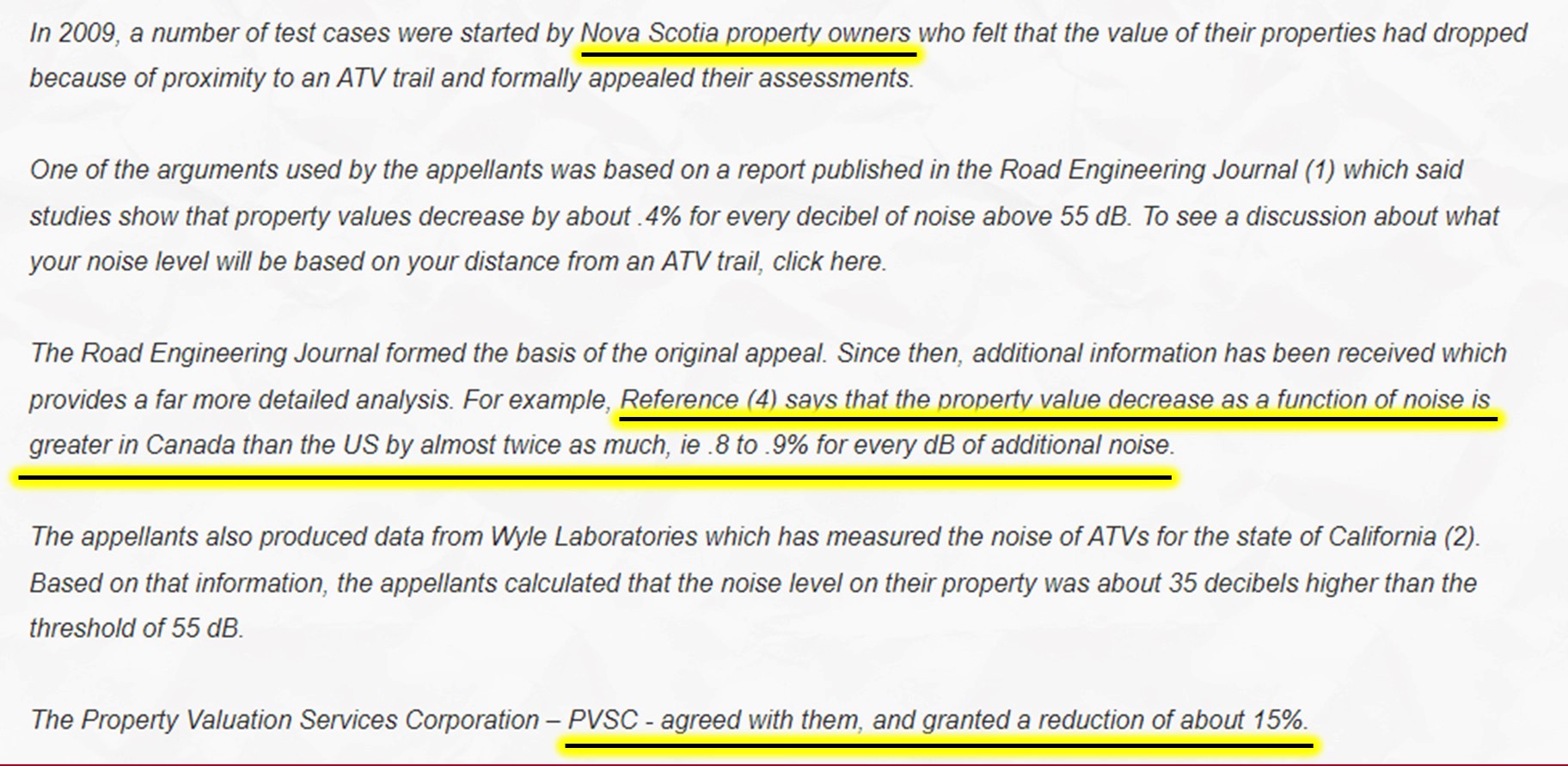 Image from here: ATVs and your Property Value
I know of a few property owners demanding their assessment be lowered. Here is an example of what can be written on the appeal part of the assessment. You can email this appeal form in.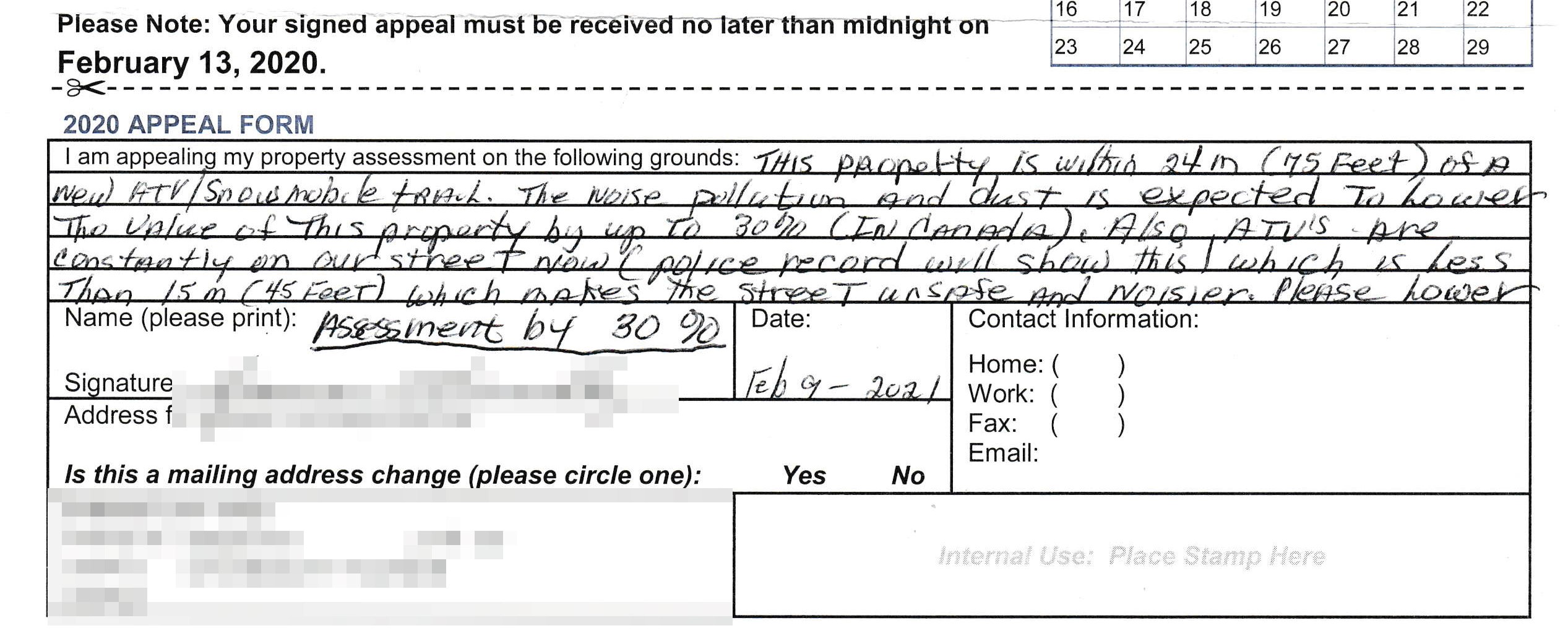 P.S. If you are an ATV enthusiast you can buy a property right next to an ATV Trail and likely get a discount on the property!
What This Means To Property Buyers
This is the simple part: take the asking price for a home and offer 15~30% less (if you feel it appropriate) depending on how close they are to the trail. You will possibly get the same deal if at some point you realize what a mistake it was to buy next to an ATV trail and decide to sell and move.
I invite you to do your own research and think about what it really means to have an ATV Trail in your backyard and the process of how it got there.