It's a Bus. It's a Train. It's Both!
Seats 25 fuel efficient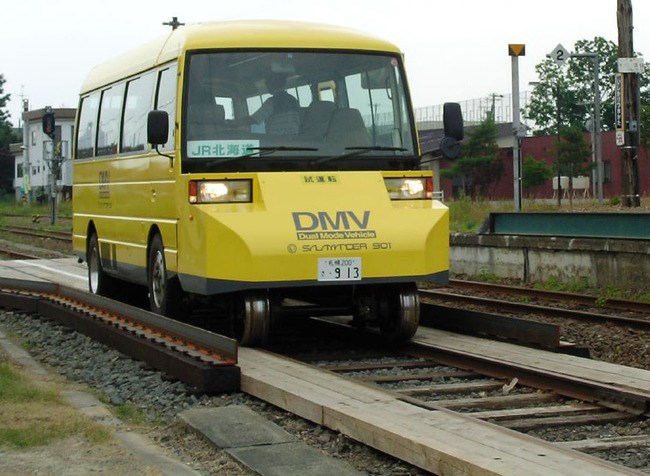 Could we have a better Transit system and a hiking/bicycle trail at the same time?
---
13
Log In or Sign Up to add a comment.
Depth

http://www.wired.com/2008/05/half-bus-half-t/

http://www.treehugger.com/public-transportation/its-train-its-bus-its-cambridge-guided-busway-video.html

https://capebreton.lokol.me/will-the-railway-right-of-way-be-chopped-up-and-sold

Love it . What country has those ? is it China ??? Do they have a name ??? Nice version of our old rail- liner train cars

It's a Japanese rail bus being tested by JR Hokkaido. Japan has many different types of light rail trams and rail buses for the lesser used lines. There are lots of different rail only versions of the rail bus in Japan as well, in the KiHa series of Diesel Multiple Unit. Some are smaller and laid out more like a bus like the KiHa 120 and go right up to the faster larger regular train like the KiHa 283 series.

Just bringing the post back

Just bringing the post back

Just bringing this post back. Please comment or like to help me out. Thank you

https://www.facebook.com/michael.macneil.581/videos/805829183202611/?t=13

https://l.facebook.com/l.php?u=https%3A%2F%2Fwww.onlyinyourstate.com%2Fnorthern-california%2Frail-bikes-norcal%2F%3Ffbclid%3DIwAR0rUSMV1_JhtbzTtVVats5Vo09_ahq5Z41-d2zN3nVLYNhDlaEmij0tgKU&h=AT3Al8E4To2Jq1d5MIdb-ARQhxuqNr-BraqryPXzXNnneiQFvmk8JejftuHHoZOuVQ4UQCTfMquiM9KvCIwO0Kq9Wkadc6VNO46DnopwZ8M2iUsQuo1IG37zVCnxqSFGqjOX3thX9rhrznbx8egK_8WFKAxMDOO5LtmBLCwx6Fz9pNrX9tyZuT3wvsMRdYRqjlayh0ByfL_9ZpgfNw4VsLEHHcQSUnCOzEJF99uonx4oe92-IMEUaV8IxddkYOX5B16GDmVeMlIg8jRqSbY8tGQ4m60jApBSz8zthAXmSM27d3xfnG6HtetvUQ4RXuHkL6gAlxF5NUmdB8ROw8YB_B4IsIRJ7fQ7DA-ddVsS_47S2bCsasJnLl4gcUaorPOiYKJsCYw5Qazu2Q4b5DeCIh6M6qo7s4FDhQcE9_LsXTR4llfdhMk4Uk6CkO0GOqzK69DhYXKstDdN7l1pI4d05i8jjnOUsQTUIDkV7PlOB6ovveF4oPgvisjz6TF_P3FxRdkr0KwRcSYSDzqgKMLK4oOiOMh9alKGIMe0bicHaYroc6muEcpKtaPOVEr8x4H9I1Rv-LMF9pA2onlbL6M2F20GQ0VIPpk-rK7CbwGk0XlpWFfX8kk

https://l.facebook.com/l.php?u=https%3A%2F%2Fyoutu.be%2FRgAGKUOqU9U%3Ft%3D22%26fbclid%3DIwAR194N_3UhLTFS5rRF8BTeG_8V5oYf8HzWSgUkM3W7DYdsOcsYszfAXJhZQ&h=AT3vdIRQ0aTrtVnAUtL5q8ANZ-jXwKPzYO5ABuQ3OLn52oh6aGAzOKxp0ItAuBz6dBZt1TM_E7hc9IadSUXrGiaCU1hx2eKgCnxOq1aVhMqyDji0G0wVyBPKZ6TGv-sF7YzaopbuMes0miVarmj_J7jidTTVHuQMjA

Construction jobs could take 5 years to complete. Well into the next Federal election https://l.facebook.com/l.php?u=https%3A%2F%2Fyoutu.be%2Fz_QyPyngcdI%3Ft%3D45%26fbclid%3DIwAR2p0oCZ_q0cKbbD_qih7GSz0H9K2IhHl07R1ST4Euh1qhfVa7M9GfzHYLw&h=AT16E5BNOWfOGohZYqkhgqkMo8MOw4UI05Rn8byIwxpp8KuGDa71M1lRZSWoxHly1ApFbCPO8lZqhRBJ52OcDi6P15VxJeBIb5lrsC_TWj-K7WeRjhGrDp6S5G5jf83rbjPLFJx9pxbkDse6tg_OSITeC9rbw4elMA

Facebook Comments
View all the LATEST
and HOTTEST posts