[Photo credit: Brendan Lyle, Aidan Bailey and Mitchell Turner/Young Superstars]
---
Glace Bay rapper Mitchell Bailey released his long-awaited debut album, Last Time Introducing Myself in July.  The album, spanning 10 tracks and featuring contributions from Weymouth, Nookie and Thrillah, rose as high 46 on the iTunes Canada Hip-Hop chart.
We caught up with Bailey to discuss the album's release, his severed partnership with Forbes Music Entertainment and his upcoming projects.
---
The album has been a long time coming. What does it feel like to have it finally released?
It definitely feels like there's a weight off my shoulder because it took so long for me to make it. In the process, I made probably two to three albums worth of songs-- maybe more than that. It came to the point with this album where I just needed to put it out.  If I didn't, then I would've kept making more stuff and taking songs off and whatnot. I think 10 songs is the perfect amount, especially for a debut album. There's no filler songs and there's not too few (songs) like an EP-- I feel like 10 is the happy medium. It's definitely a huge relief because I feel like it's been a long time coming for me to release an album and give an in-depth look at my perspective on things ever since I graduated high school. So yeah, it feels good.
---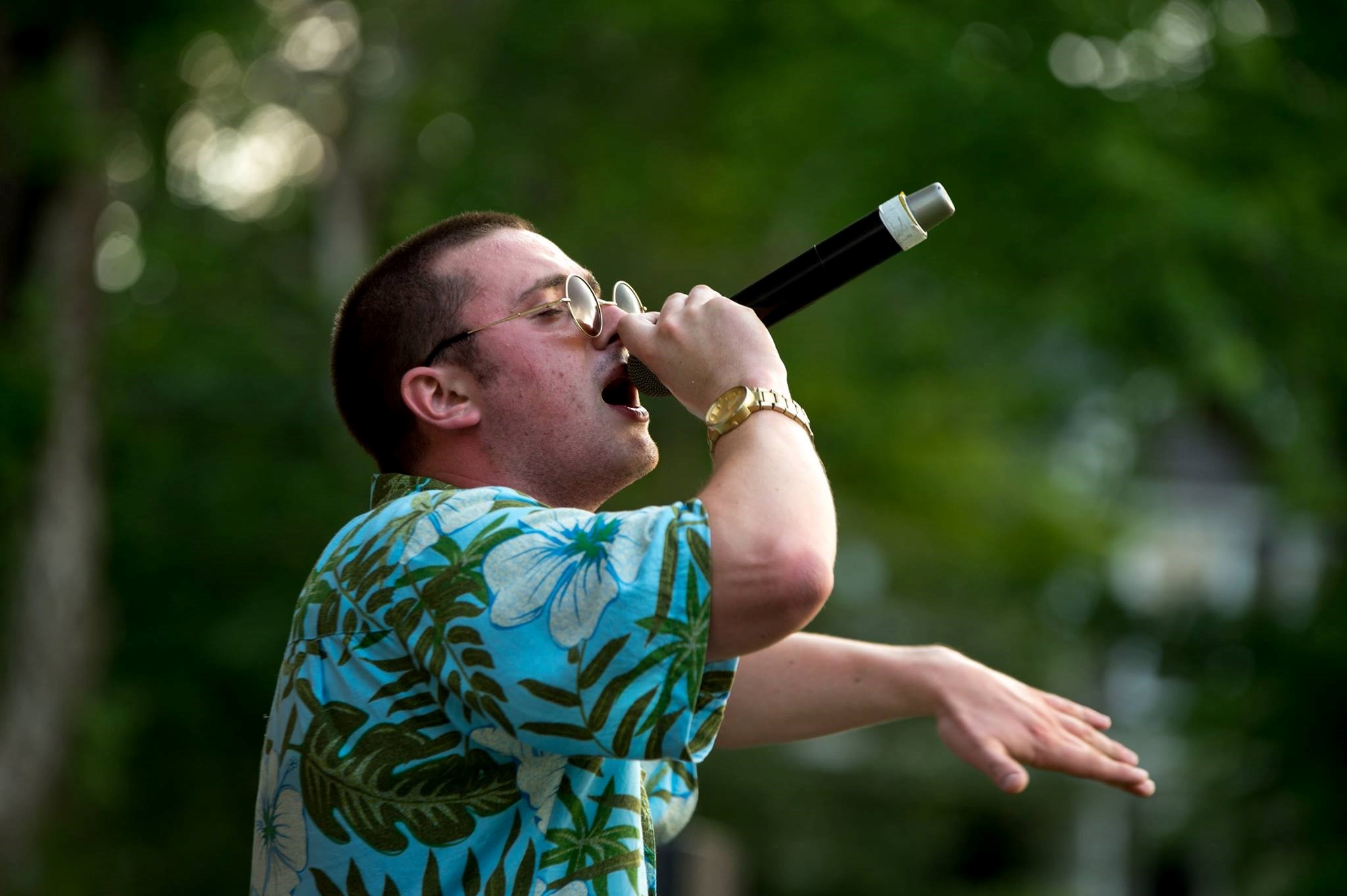 Bailey performs at the Makin' Waves Music Festival in Sydney in July. [Photo credit: Makin' Waves Music Festival Facebook Page]
---
Did you have any nerves before you released the album?
I feel like I was getting nervous [on the release day]. It was supposed to come out on the 20th of July. That was the day I was performing at the Making Waves Festival in Sydney. I thought that was the perfect combination of events going on because I was performing and my album comes out, so I'm thinking "What a day this is going to be! It's going to be sick." But it never actually came out on the 20th. It was because once the distribution company we use sends the album off to Apple Music, iTunes, Spotify, and whatnot, they have no control over it afterwards. I got an email at 6 am on July 20th saying it was delivered to the stores. So I'm checking Apple Music all day wondering when my album will be out. [It wasn't appearing], and I was making social media statuses apologizing, not knowing what was going on.  So, I wasn't nervous but I was [mad]. I don't really get stressed out too much over things like that, but then I was hearing some albums take two to three weeks to come out and I thought this was absolutely [messed up]. It actually came out the next day, but I had to upload it onto my website and it wasn't how I wanted the rollout to go at all. But people were liking it, and then two hours later it popped up on Apple Music and then my life just came together. Up until that point, I was a ball of stress, no doubt. I was just so mad because I hyped this up for a whole week and I just wanted everything to go perfectly.
What was the biggest challenge making the album?
I don't think there was a challenge in the recording process, but more so finalizing what I wanted the album to be. The hardest part about it was patience because I was trying to make this album since 2015. I had a whole different album at this time last year and only 2 songs from that made it. You've just got to have faith in the process and understand that eventually, it will come together naturally.
I was in Halifax and I was sitting down with the director Andrew Mortimer and he said "you have to put an album out".  I was always thinking of just putting out singles and music videos and if something blows up, that's the best way to grab people's attention. I knew I was going to put out an album, but I it wasn't something that I was pressuring myself to do. But he was just trying to reinforce that. I wanted people to be able to go on Apple Music or Spotify and see more than three songs, so making an album would solve that.
---
---
What's the response to the album been like?
Great man, crazy. When it charted on iTunes, it blew my mind because I saw Quake [Matthews] do it. And I thought that was crazy. I knew he had a big support base but I didn't know it was that big. I was actually talking to him the night my album came out and I thought I'd check [iTunes] just for fun. I was not expecting to be on there. Most people have Apple Music anyway, so the way it works is not many people are buying music from iTunes. I've turned off iTunes because it's more financially convenient to just download Apple Music for ten bucks a month and stream everything. But iTunes charts are just based off of people buying the album digitally. The chart fluctuates based off of relevancy at the time. So if five people went in and purchased my album, it would probably just shoot up the charts because it's so easy to do it on iTunes. But that people were still doing that to support me, was so cool. All of these older albums from artists like Drake and Eminem are on the chart and it was funny to see how mine was up there with them. I know these albums came out years ago and mine came out today, but it's just funny to see at the time that more people on iTunes in Canada were buying my album than that. It had a four-day span [where it was on the chart] but it kind of ruined my life at the same time because I just would not stop looking at my phone to see where it was at. But the reception exceeded my expectations and now I know where my support base stands. So now  I just need to keep releasing music.
Were there any major influences that played into your album?
I'm not going to lie, I feel like I'm definitely heavily influenced by what artist I'm in the phase of listening to at the time. The sound might be diverse, but with my lyrical content, I always try to be as original as possible. I think every artist gets somewhat inspired from something and they make it their own. I can tell you who influenced every single song on the album. For example, I was listening to a lot of Anderson Paak when I was recording Right Here.
Was there anyone you were trying to collaborate with on the album that didn't materialize?
Kanye
The last time we spoke, you had just signed a distribution partnership with Forbes Music and the partnership has since ended. What contributed to that?
They didn't really live up to what they promised but it wasn't really a loss on either side. Honestly, you know what's crazy? We never really did end it. We just stopped talking. And it's kind of messed up. I'll just say, I feel we're more comfortable working within our inner circle with Mickey [Freeman] and my agent who's based in Montreal. So she's kind of taking over the role that Forbes were supposed to take over. But it just didn't really live up to what they promised and we were still moving. I feel like they were trying to go in a different direction and it just didn't really work, so it was best for us to part ways. But it wasn't like I lost some major opportunity because I started to realize we're actually able to do more with our inner circle and always have been. I like the whole 'Do It Yourself' process and having my say. I mean obviously if a label came to me, offered me a bunch of money, and it seemed right,  I would never ever turn that down. Because you've got to be grateful for the opportunities you may get, but at the same time, I'm still going to be pushing to get to where I want.
After releasing your debut,  what's the next step in your career?
I want to have another album out in October. I was in Halifax and I was working with Dylan Gouthro from Port Cities. They played here two weeks ago--I opened up for them at the CBC 150 festival on the boardwalk. I was working with him and Jodi Gouthro (whose single So Many Nights is #1 on the East Coast Countdown) and of course Shaun Lewis who produces all my stuff. There'll be more collaborations on this next album I think because I have myself in a position where I can work with a lot of people that I've been wanting to work with for a while. I expect some more higher level like collabs on this album.  I'm already about four songs into it and I'm aiming for another 10 songs at least. I just want to keep putting out content-- there's going to be multiple music videos, we're going to Montreal to perform & release a Vlog from Montreal, do some interviews, and we have merchandise coming soon. The plan is to keep putting [stuff] out until we make a million dollars.
---