When the temperature drops and trees shed their leaves, many outdoor attractions in Cape Breton close for the season. One exception is Two Rivers Wildlife Park in Huntington.
From November 1 to May 14, the Park is open daily (except Christmas Day) from 10am-5pm. The Park is home to over 50 species of animals and birds, and provides an opportunity to see them in a winter setting.
On December weekends, the park hosts Winter Light Up -- a 1 km trail with thousands of lights, complemented with the sounds of Christmas music filling the forest. A horse-drawn sleigh takes visitors to and from the trail. Steaming hot chocolate awaits their urn.
If Mother Nature provides sufficient snowfall, visitors can try snowshoeing or cross-country skiing on groomed trails, skating on ice-covered ponds, tobogganing, and even ice fishing.
Winter Frolic takes place in late January and February, where visitors can participate in coasting, candlelit tours, sleigh rides, and enjoy steaming hot chocolate.
On February 2nd, 2018, the park celebrates Groundhog Day with activities focused on the furry animals prediction for the spring.
Groups can book sleigh rides and hot chocolate for special events and visits.
During March Break, special events take place with free wagon rides.
Scheduled Events:
Winter Light Up Trail
Dates/Times:
December 21st, 22nd, 23rd, 27th, 28th, 29th and 30th  Open from 5:30  to 8:30 p.m.
*Santa will be onsite on December 21st, 22nd and 23rd
Admission:
$10.00 per person which includes a hot chocolate, hot dog, cookie & a wagon ride
Admission by prepaid tickets or limited tickets at the gate
Season Passes are not valid
Purchase tickets at the park or by phone at 902.727.2483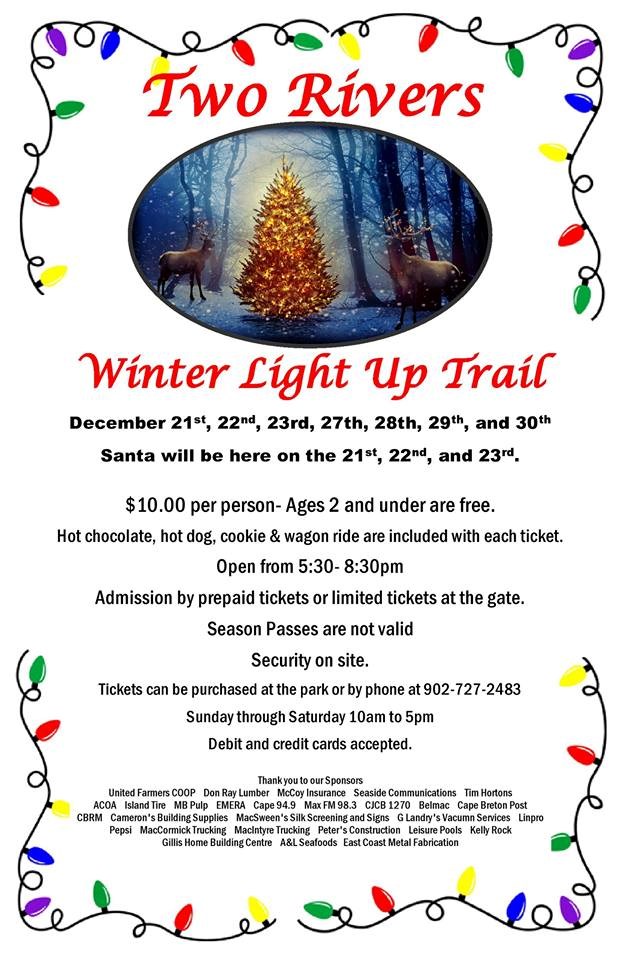 CBRM NYE - Sydney Waterfront
The Two Rivers Wildlife Park will be participating in the CBRM's New Year's Eve celebration at the Sydney waterfront with horse-drawn wagon rides.
Dates/Times:
Sunday, December 31st from 6:00 p.m. to 9:00 p.m.
Winter Frolic
Weekends in late January and February 2018.
Visitors can participate in coasting, candlelit tours, and sleigh rides.
Groundhog Day
February 2nd, 2018
The park will celebrate Groundhog Day with Two Rivers Tunnel who will predict when spring will arrive in Cape Breton. 
March Break
Activities for the kids all week long including free sleigh rides.
Winter Park Hours:
November 1st to May 14th 10:00 a.m. to 5:00 p.m.
Closed on Christmas Day
Admission:
Includes access to the trail and petting zoo. All prices include HST
Adults: $7.00
Seniors (55+): $5.00
Youth (3-17): $5.00
Child (2 + under): Free
Location Information:
4581 Grand Mira Road North
Huntington, Nova Scotia
B1K 1V5
902.727.2483
For more information visit the Two Rivers Wildlife Park website