The Little Rollin Bistro (no apostrophe, I checked :-) joined the food truck scene a few years ago (or maybe it was just last year)?  The business website describes themselves as follows:
The Little Rollin Bistro is a gourmet style food truck serving up restaurant caliber meals in downtown Sydney. Our meat is sourced from Thyme for Ewe farm (Millville, CB), coffee from Justus (Wolfville, NS) and produce is locally sourced and organic when available. We do this so you can enjoy a delicious, fresh, locally sourced meal for a reasonable price.
I've eaten there a few times and have enjoyed all my meals.  My latest meal is shown below ... a taco burger with roasted red potatoes as the side.  Yum!  
Here is what I liked about it:
The meat (pork) was well cooked and had a crispy exterior ... I like crispy :-)

The taco seasoning in the meat was well balanced ... not too weak, not too strong.

Pita is always a great choice for bread ... but I forgot to ask if they make it themselves, which I suspect they might because it's hard to get a decent pita from the grocery store.

Topped with salsa, a special mayo, spinach, and avocado.  The avocado perfectly complements the spiciness of the meat. 

The roasted red potatoes were nice and creamy (not overcooked) with just the right amount of salt.
I really enjoyed the meal.  There was love in this food!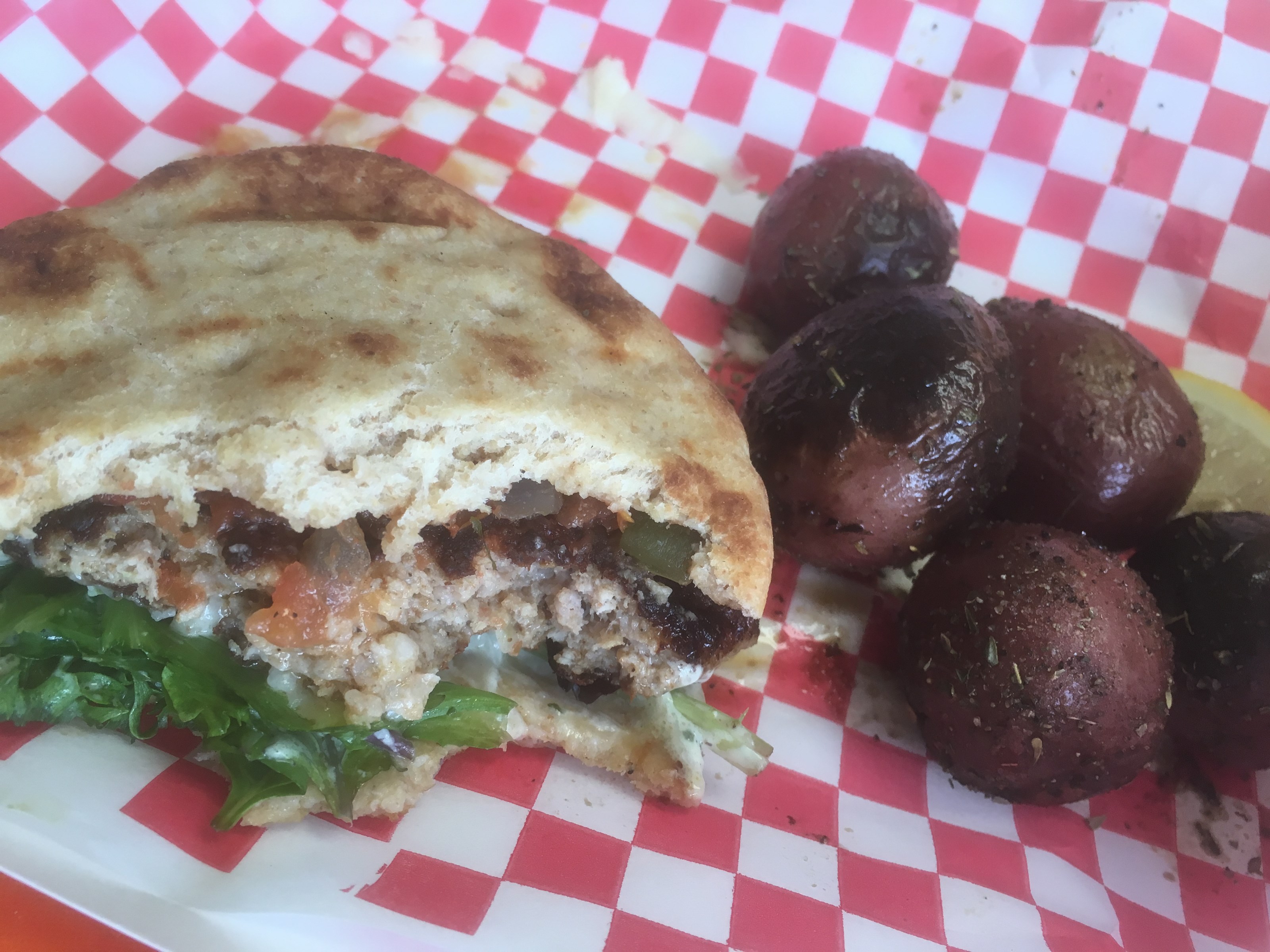 I also like that they have a small menu.  When I see a food truck (or even a restaurant for that matter) with a large menu, I start to worry.  I worry that the food may not be fresh and I worry that they are focused on quantity more so than quality.
So, give them a try.  They are often located near the Sydney boardwalk, just behind the green Mercer's Service Station.  See the map above and check their Facebook page below for their daily status.
Good food.  Good life.  Find out more about the Good Food Review - Cape Breton
So, what do you think?  Share your positive food experience below ... or post your own review of a local eatery - here's how.
One request: Please don't be mean!  Remember that the livelihoods of many local people depend on the success of an eatery. If you don't like something, be kind about how you deliver and share the news. Only positive comments will be allowed on this Good Food Review post - that's my personal decision and does not reflect the policies of goCapeBreton.com