Recently, a friend of mine Instagrammed her trip to Paris, including a ramble through Père Lachaise Cemetery--resting place of a whole gamut of celebrities, from Oscar Wilde to Jim Morrison--as well as her trip into the Catacombs, where medieval Parisians turns bone-stacking into a macabre art form. I felt a new form of jealousy that can only be described as necropolis envy. After all, Cape Breton has all kinds of great cemeteries, from old and crumbling to shiny and immaculate. The spirits that roam those sites are content with them, no doubt. But what we lack--or so I thought--was a place where ghosts would want to come hang out. The ghost tourism industry lacked a destination graveyard.
Then we hit Black Brook Cemetery.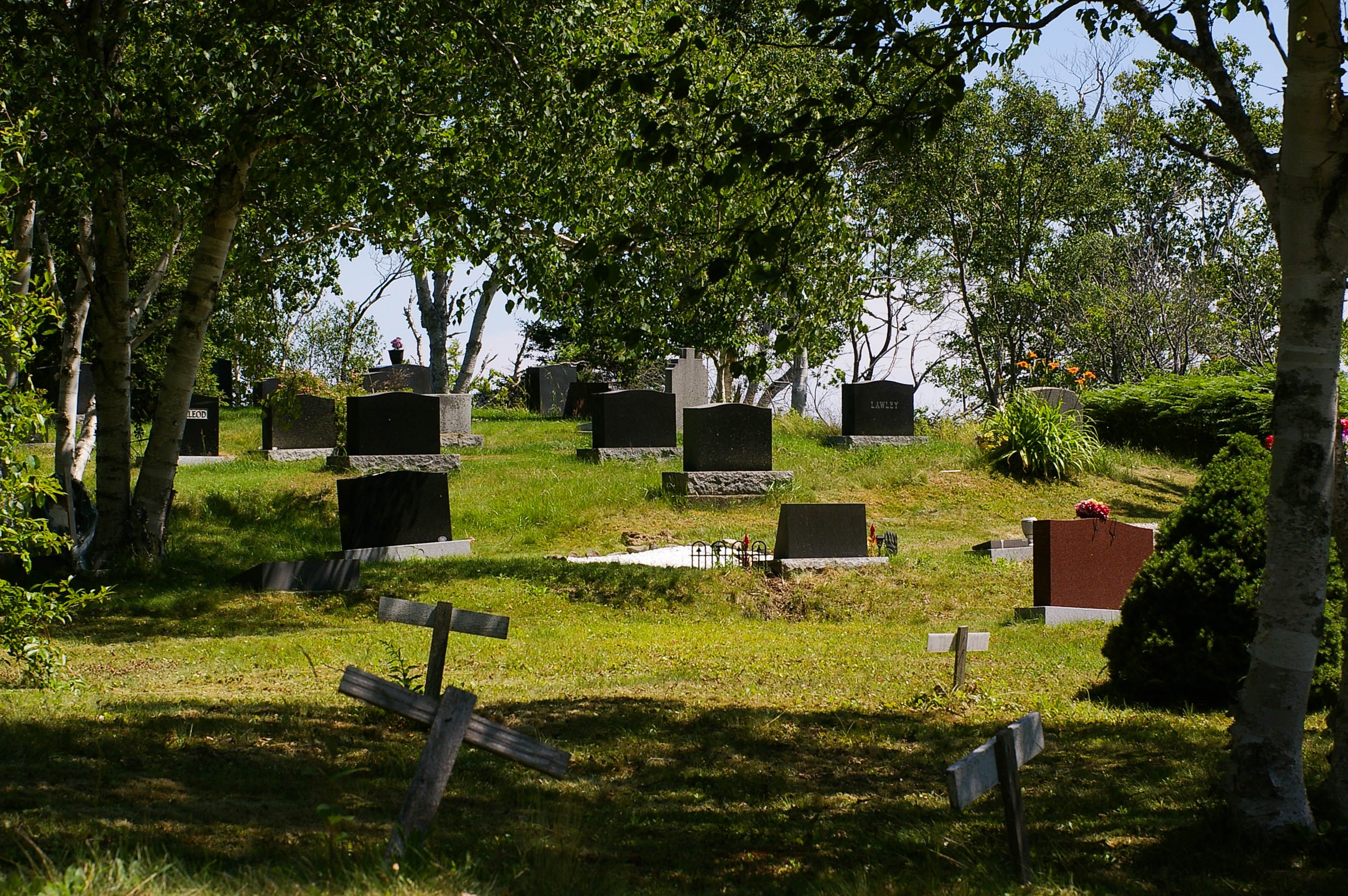 I'd had this spot recommended to me by a couple of locals, although they qualified their enthusiasm by admitting that most of their trips to Black Brook had been nocturnal, beer-fueled, and illicit. Still, the descriptions were enticing. Mostly, when people describe cemeteries they like, they have a lot of trouble putting it into words: "It's just got this vibe..." or "You know there's something there..." And I can sympathize. Even though I am a wordsmith, my purple prose sometimes goes pale on me. That's why I bring along Whitney Fawn to snap photos.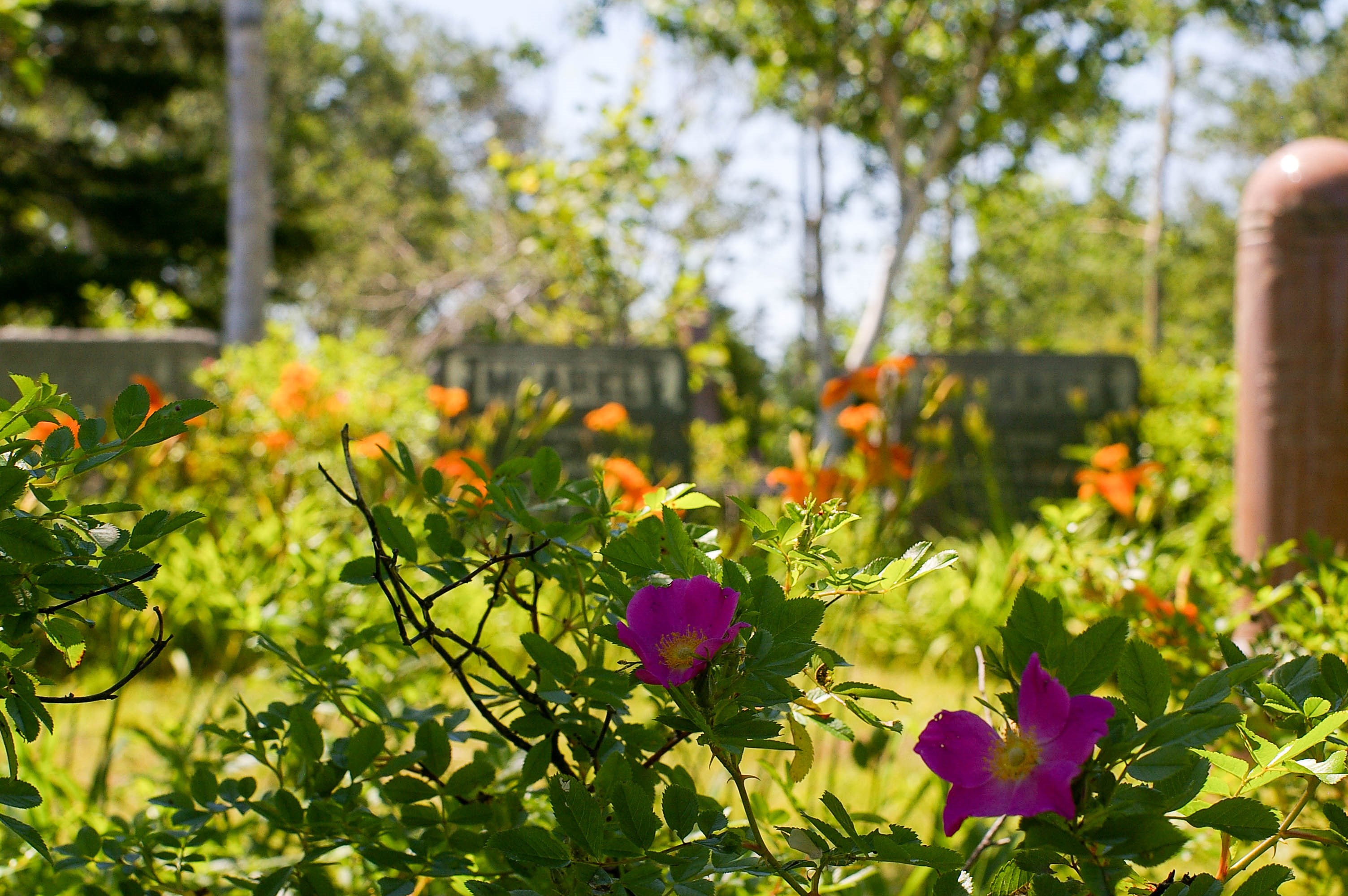 We drove south past Port Morien on a sunny Natal Day afternoon. Families were splashing in the sand bar. Just when we started to wonder if we were on the right track, the "Black Brook" county sign came up. Then two cemeteries, one turnoff after another. We skipped St. Mary's and turned where the sign said BLACK BROOK 1842" -- a baroque eruption of cursives rendering the date of the sign itself unplaceable. The road leading to the site wasn't as spooky as Sandfield's hedged-in horror-movie ride-up, but it still rang up a silent drumroll in our heads as we climbed up along the ruts. A second, highly corroded sign had been modified (or misspelled from the start) to read "BLACK BROOR."
We parked. The four-year-old was napping in the back, and even in the shade, it was a hot car, so we couldn't stay long. But for gravespotters, that felt like arriving in Disneyland and being told we only had time to visit Main Street U.S.A.. Because Black Brook, while not an enormous site, still warrants its own daytrip -- there is no end of surprises here. Stones of every age, shape, and design, from soaring, cross-tipped obelisks to tiny, stubby diamonds. Low-rent hand-painted markers and elaborately carved king-sized spots, some with their very own fencing. And a few thoroughly unique designs, which always make me grin, even as I scratch my head.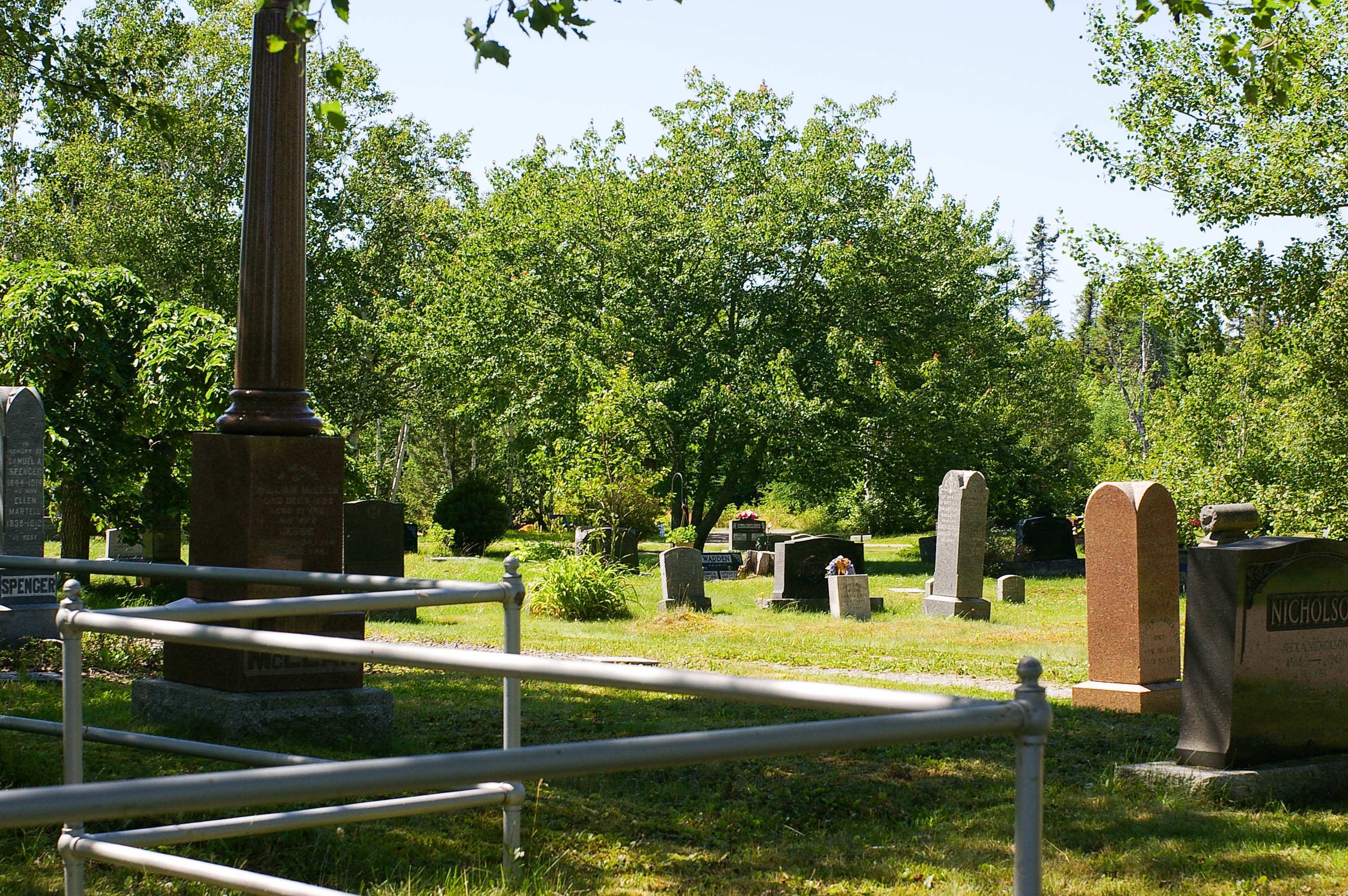 Here's a treasure: "Catherine Hastie, Wife of Capt. Peter Agnew Appleton, who departed this life June 11 1887, aged 28 years." As the wife of a sea captain, it's no wonder that Catherine wanted to be buried overlooking the ocean, and indeed, she got one of the choicest spots along the cliff. But did she ask to have her monument carved to resemble a knotty tree stump with an alabaster scroll hanging off it? Or was that Capt. Appleton's idea? "Ay, she always did love her tree stumps, that girl..."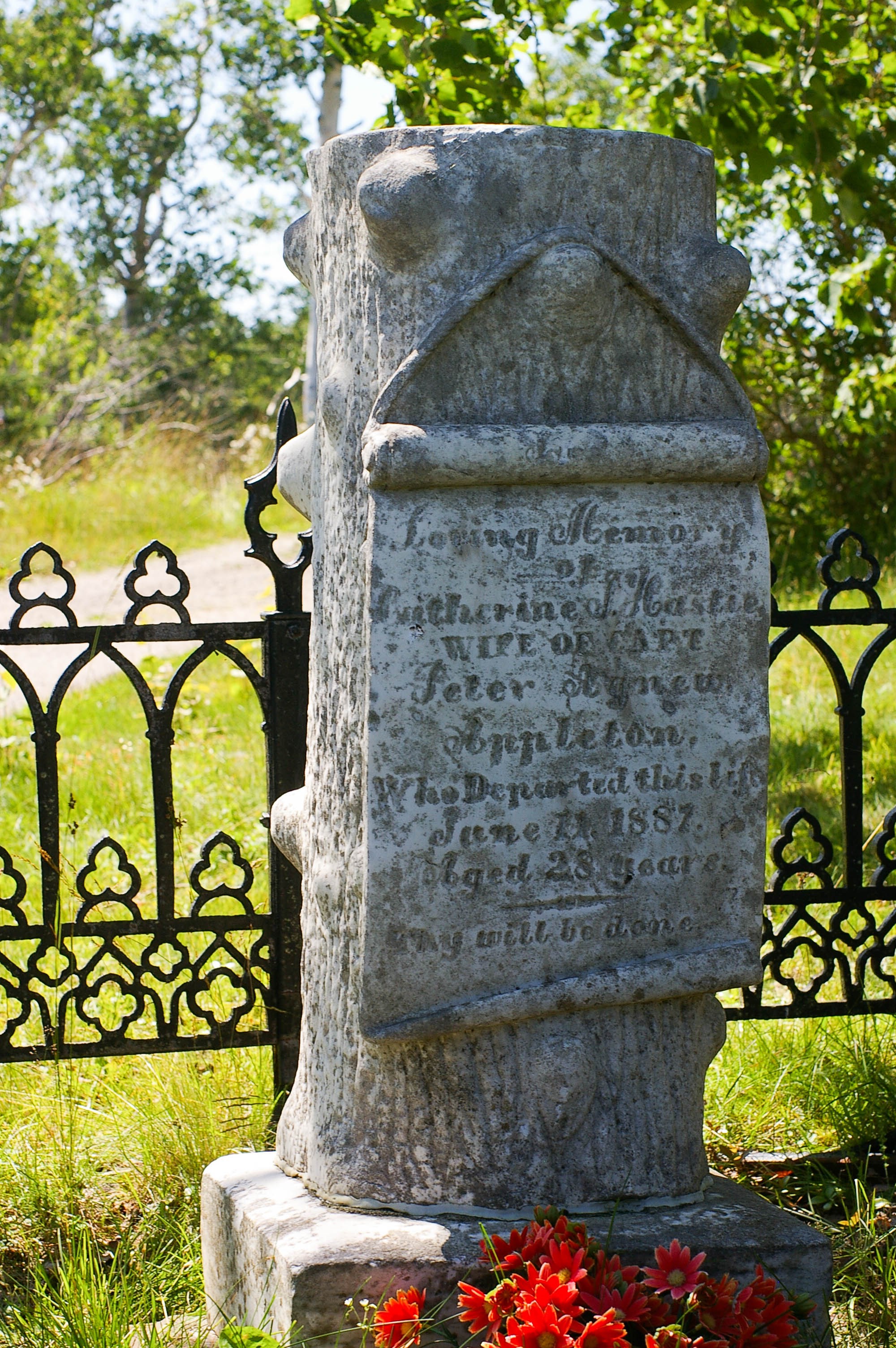 And what to make of the black, wrought-iron enclosure whose gate bears the name "Lilla A. MacDonald"? The area within is large enough for several plots, yet I could make out no headstones or markers among the young pines and underbrush. Did Lilla forego a headstone, or did time erase it?
The most arresting discovery was a carved figure, about a foot tall, that crouched inconspicuously behind a taller marker, daring the passerby to approach for a closer look. From nearly all angles, it looking like nothing so much as a homunculus, or perhaps a tiny garden monk swathed in dark robes. Only once we did a full around the perplexing stone stump did we realize it was supposed to be a partially draped urn--a very common symbol for cremation in western cemeteries, although not one I'd seen much of here till Black Brook.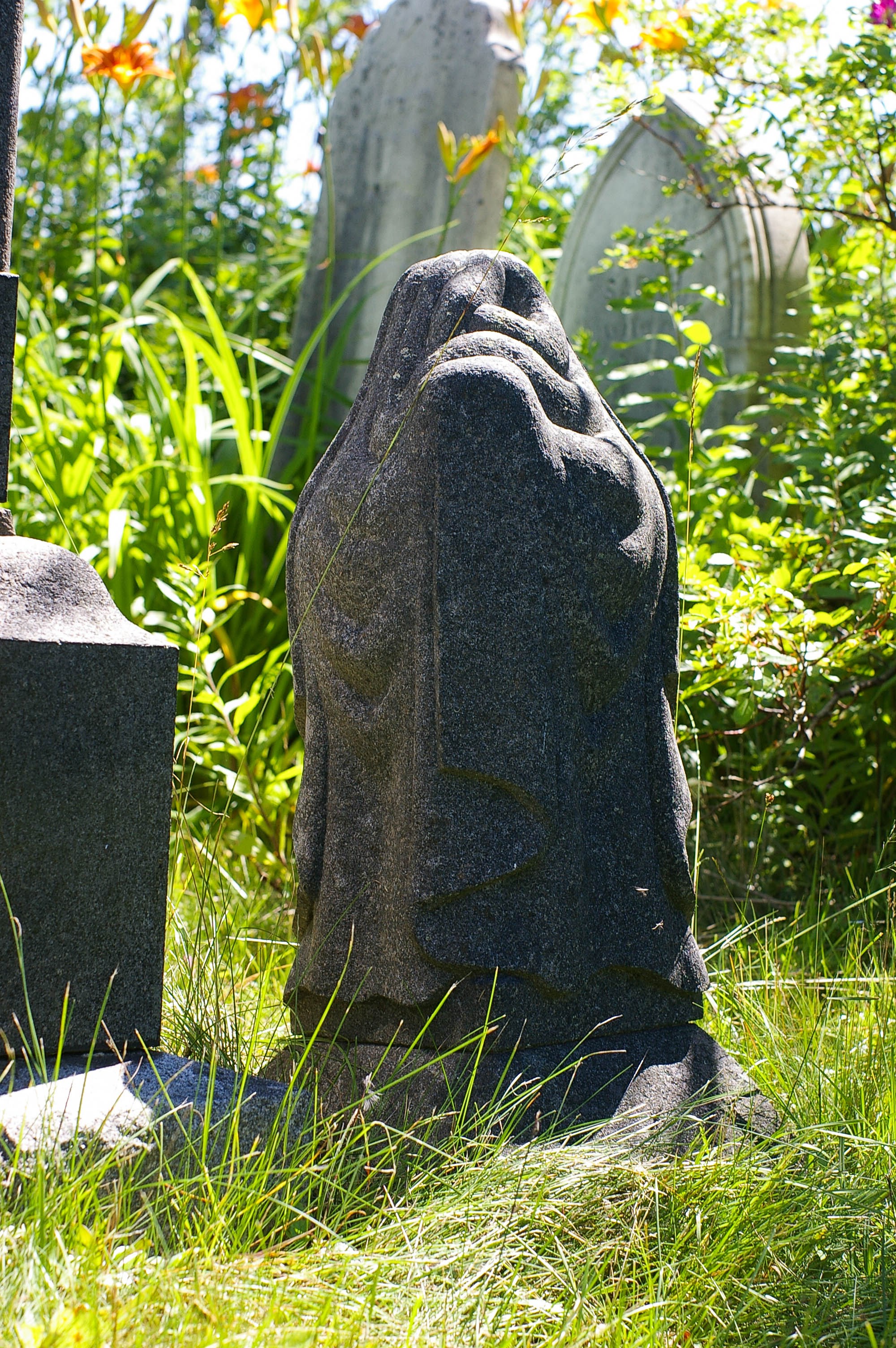 The individual marvels abound, but the reason Black Brook stands out has more to do with its topography and its overall ambiance. The cliffside ground rolls gently in most places, but sometimes drops away steeply in clumps of boulders interspersed with old, broken bits of headstone. Birch trees abound, interspersed with shrubs and rosebushes that sometimes conceal additional rows of plots. Low fences arbitrarily cordon off seemingly random groups of markers, as if some landscapers popped in at some point and said, "Needs more fence!" There's even a flat wooden platform, like a stage, which may be the site of the advertised "Cemetery Services." And who wouldn't love to go to church outdoors, in a place like this?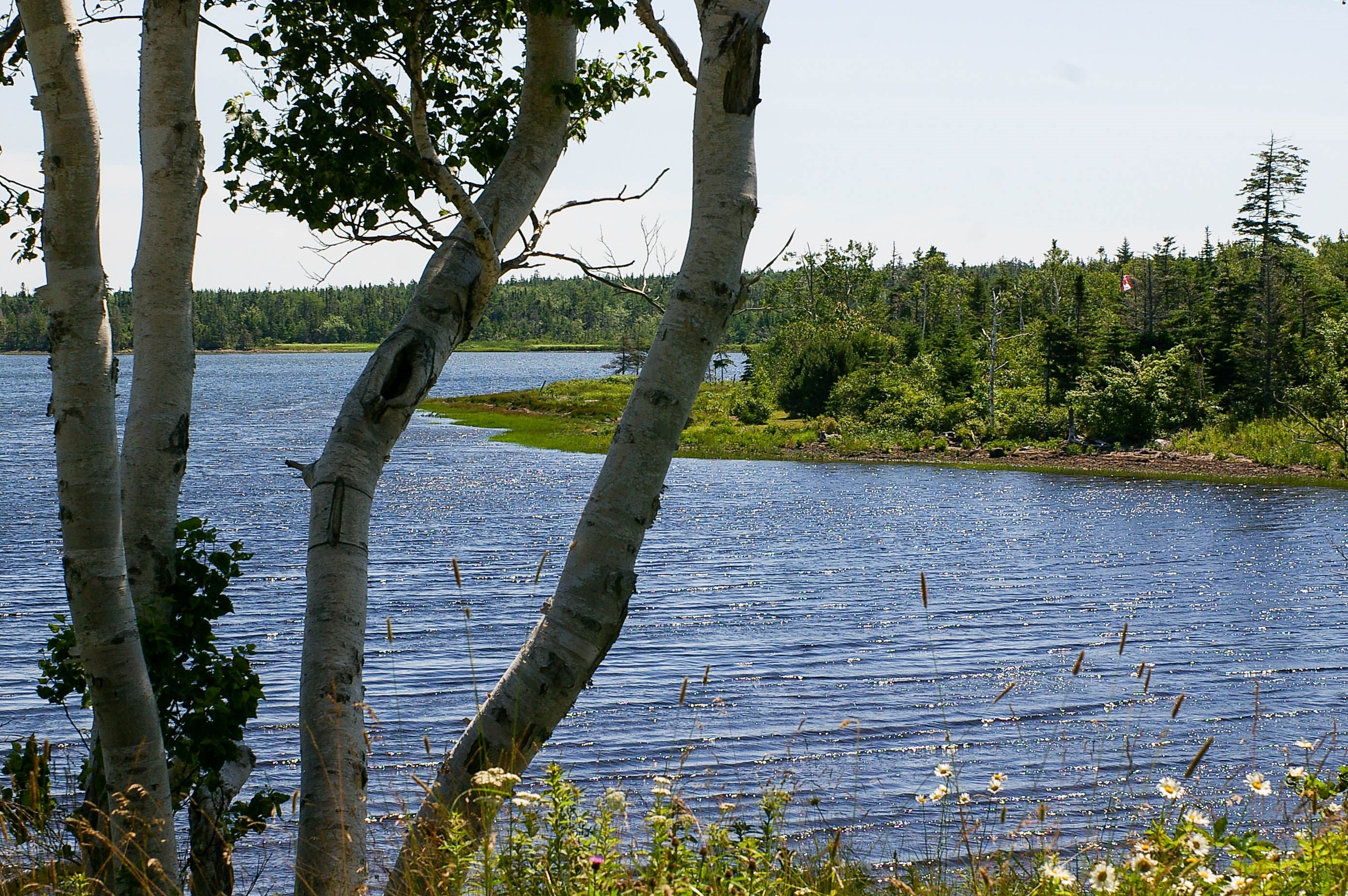 I'm not equipped to comment on whether Black Brook is "Cape Breton's Most Haunted Cemetery," as some sites claim. Certainly, the blazing midday sun did not seem conducive to the heebie-jeebies, though at times the wind in the leaves would harmonize briefly with the distant drone of the highway to create an uncanny sotto voce sussurus. Yet it's easy to imagine how the combination of uneven terrain, unconventional headstones, and haphazard flora could make the site seem seriously spooky at night.
But another great claim for its status as necropolis comes from the wonderful names of its residents; no offense to the MacDonalds and MacNeils out there, but these are names that beg tales to be told about them. Is Anne Tutty (d. 1911, 29 years old) good friends with Annie Bella (d. 1909, 23 years old), or do they fight for the affections of the rugged and mysterious Murdock McLeod (d. 1896, from North Uist, Scotland -- a vain struggle indeed, since Murdock's heart was stolen long ago by the even-more-mysterious madam known only as Peach? It's like Days of our Deaths out here. And that's the strongest argument for declaring Black Brook the island's own necropolis. It's not just a site for corporeal gravespotters to spend an hour (or more -- bring a picnic lunch!), it's a site for spirits to visit, in the hopes of doing a bit of local celebrity ghost-spotting.
If you are eager for more detailed narratives about the supernatural, Cape Breton has two marvelous and distinct Ghost Walks, each run by talented local actors and historians. The Haunted Sydney Ghost Tours, run by the Old Sydney Society, just wrapped up after Action Week, but in the fall, the Haunted Louisbourg Tour will give you some 18th century shivers at the Fortress of Louisbourg.
Scott Sharplin is a freelance writer and theatre artist, and an instructor at Cape Breton University. After growing up in Edmonton and studying playwriting in Montreal, Scott settled in Cape Breton to do the house-wife-car-dog-child thing. He is both active in, and a huge fan of, the Cape Breton theatre community. He also enjoys role-playing games, and even writes them professionally now and then. He lives in Sydney.
Whitney Fawn MacEachern was born in Virginia, and was fascinated from childhood by the creatures that live there. She spent her summers walking through the woods near her house, using field guides to identify the animals and plants she found there. During the cool winters, she whiled away many hours drawing and crafting, honing her artistic skills. Whitney now lives in New Waterford with her husband and their two Maine **** cats.