CBRM Council rejected Active Transportation in Districts 9/10 and as a result isolates us from the rest of Canada in their effort to make greener and healthier communities.
They did this after asking CBRM taxpayers for $6.6million for Active Transportation (Some of the same Councillors).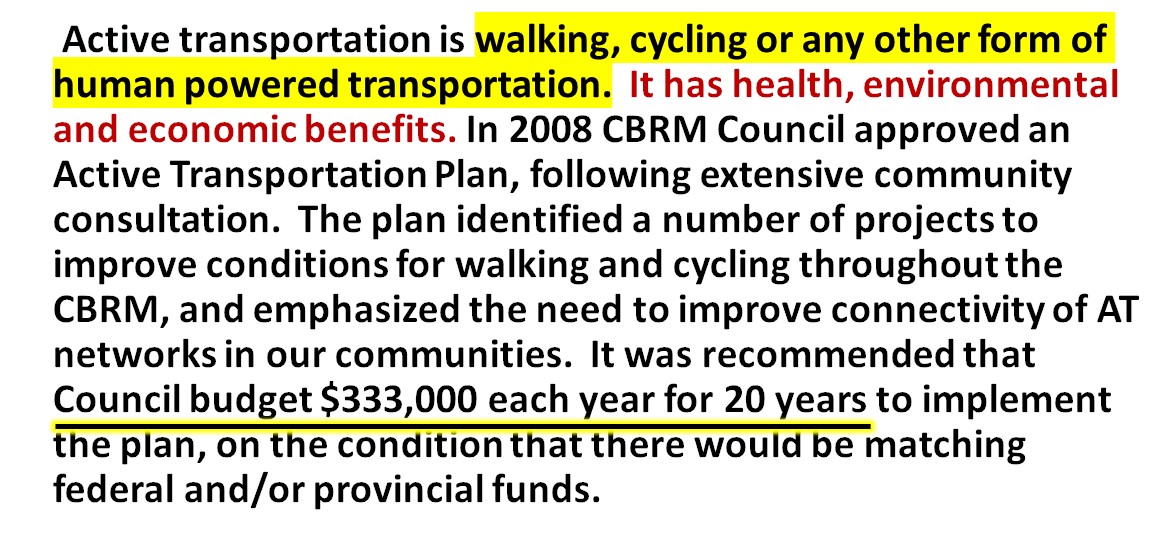 This article (Feds unveil first-ever dedicated fund for active transportation ) shows that others communities and the Federal Government are pushing ahead with a goal of making Canada a better place to live. It also shows how backwards CBRM policy making is and that CBRM is clearly going in the opposite direction. There is no denying it or hiding from it. Here's the test: let's apply for funding under this program for the new ATV Trail that runs through dense residential areas and that our CBRM Mayor and Council have commissioned against the wishes of the communities involved. We will see how much we get to support noisy, polluting, non essential toys so that they can drive even further around Cape Breton. Will Canadians give us MORE their hard earned tax dollars to promote a gas powered recreation? I don't think they are stupid enough to fall for that again, I mean PSPC did give CBRM $1million of Tax payer dollars that is mostly being burned up accommodating gas powered off-road vehicles. The trail is unusable by bicycles until 10's of thousands of dollars are spent fixing the damage created by ATVs. Police budgets are being consumed by illegal activities committed by ATV riders. Paving, signage and barriers are costing taxpayers a small fortune to accommodate off-road vehicles. Insurance premiums which CBRM must pay are increasing to accommodate off-road vehicles on residential trails. All this cost to Canadian taxpayers for something residents didn't ask for in their communities and at a time when CBRM is saying they have no money.
Quite a few residents who were excited to get an Active Transportation trail, no longer use the ATV Trail because of the off-road vehicles.
Were is the accountability and transparency with respect to this mess?
Who is benefitting by supporting gas powered recreational vehicles?
Who championed this Bait & Switch?
Does District 9/10 even matter to City Hall anymore?